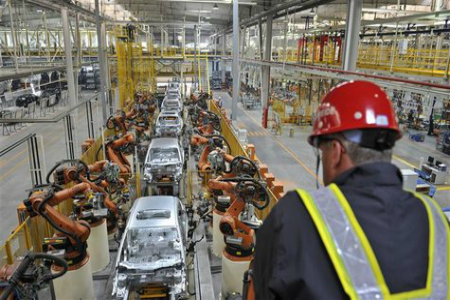 DEARBORN — (WWJ) Ford, which expects to lose a billion dollars in Europe this year, says it's shutting its assembly plant in Genk, Belgium. The plant employs 4300 people directly, and has as many as 5000 subcontractors.
"The proposed restructuring of our European manufacturing operations is a fundamental part of our plan to strengthen Ford's business in Europe and to return to profitable growth," said Stephen Odell, chairman and CEO, Ford of Europe.
The closing is expected to be finalized by 2014. Exact details have to be negotiated with Ford's unions in Europe.
"We understand the impact this potential action would have on our work force in Genk, their families, our suppliers and the local communities," said Odell. "We fully recognize and accept our social responsibilities in this difficult situation and, if the restructuring plan is confirmed, we will ensure that we put in place measures and support to lessen the impact for all employees affected."
The Genk plant builds the Mondeo mid size car, which is similar to the Fusion in the U.S., as well as several SUV's; The S-MAX, C-MAX and Galaxy. Production will be shifted to Ford plants in Valencia Spain and Saarlouis, Germany.
The closing of the Genk plant is part of an overall turnaround plan that Ford executives will outline on Thursday morning.
Ford and other carmakers say they have to deal with serious overcapacity issues in Europe, where sales are at 20 year lows. Economic problems in Europe have caused vehicle demand to drop 20 percent since 2007.
Ford is scheduled to reveal its third quarter financial report next Tuesday. While it's expected to make money, it's European operations are expected to post more big losses.
https://detroit.cbslocal.com/2012/10/24/ford-makes-big-cuts-in-europe/