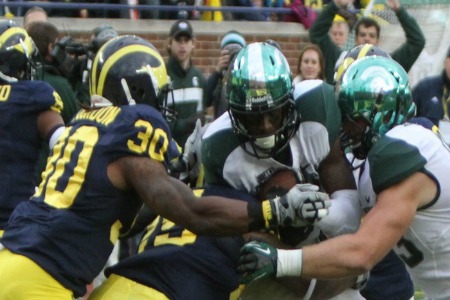 Photo: CASS TECH's Thomas Gordon (#30) helps corral Crockett's Tony Lippett (#14). – Dan Graschuck photo
ANN ARBOR – Michigan State University came to the Big House before 113,833 and unveiled its metallic green helmets for its rivalry game at Michigan. I guess the Spartans were hoping they would also find a shiny new offense to go with those helmets.
They did not find that magical offense as it stayed dull and lifeless, getting shut out in the first half, and eventually losing 12-10.
In the lead up to this in-state rivalry game, much conversation centered around whether the Michigan State contest has become as important to the Wolverines as the Ohio State game.
I think many of those question were answered after UM kicker Brendan Gibbons nailed a 38 yard field goal with only five second left on the game clock, and, most of the sellout crowd stormed the field in a joyful demonstration that their Wolverines had finally knocked the Spartans off their lofty perch.
Sure the Ohio State contest had captivated the Michigan throng for too many years to recount and it is easy to see why. For three decades the Buckeyes and the Wolverines fought for Big Ten and national supremacy. All the while the Spartans were a cute little afterthought.
However, as evident by the Michigan fans unabated expression of pleasure and delight in finally beating Michigan State, after four torturous years of losing to the now every relevant Spartans.
Even if the UM players and coach Brady Hoke would not outwardly over express just how much they really wanted to beat MSU, the fans said it all.
Following the defensive battle produced by MSU's and UM's determined defenses, it mattered not to the thousands of fans that stormed the field.
In fact, I was slowly meandering across the stadium field and before I knew it I was caught in a mass of humanity that reminded my just how small we all are compared to a moving living breathing frenzied throng.
At the expense of MSU, Michigan earned its 900 win, becoming the first college to do so. The defensive win over the Spartans also was the Wolverines first victory at home where they did not score a touchdown. The last such victory was a 5-0 win over Purdue in 1995.
It is safe to say the University of Michigan and Michigan State University rivalry has moved into the Hatfields versus McCoys feud lore.
Most predicted that UM had a giant advantage coming into this contest especially after the Wolverines convincing shellacking of Illinois, blasting the Illini 45-0, and, MSU limped into Ann Arbor after losing its Homecoming contest against Iowa in East Lansing.
The winner of the Michigan–Michigan State football rivalry gets to hoist the Paul Bunyan–Governor of Michigan Trophy. The winner retains possession of the trophy until the next year's game. The trophy was first presented in 1953 (Michigan State's first year as a full Big Ten member) and is a four-foot-high wooden statue on a five-foot-high base. The series record for the Paul Bunyan Trophy is 34–23–2 for Michigan.
"Paul's back," U-M co-captain Jordan Kovacs said after the game. "It feels good — you feel like you got the monkey off the back. This is a big game year-in and year-out and you don't want to go 0-and-4 (as seniors) in this game. We won it for those guys who were before us, too. They're a part of this team. It wasn't just for these seniors, for these underclassmen, it was for this program."
Said former Cass Tech star and starting defensive tackle Will Campbell: "Yeah it was good to finally get a win over our state rival. But it was just one game and we have to start preparing for next week tomorrow. I know a lot of players on that Michigan State team and they are indeed a good team, but this is our day."
The Wolverines improved to 5-2 on the season and 3-0 in the Legends Division. While the Spartans fell 4-4 and 1-3 in the Big Ten.