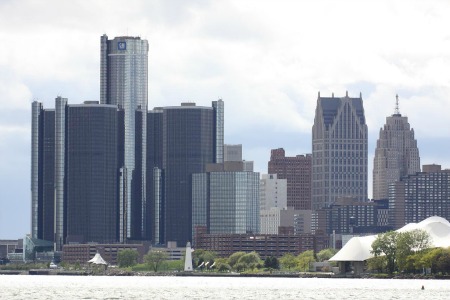 DETROIT, MI – Scott Moloney nearly moved into the wrong building, jammed his ice cream machine the first time he used it, and spent a summer weekend buying dry ice to keep his tasty creations from melting.
But the owner of Treat Dreams in Ferndale survived those twists – and many more – to create a thriving business over the past two years that's now looking to expand.
"You'll never have a week that goes according to plan," Moloney told Open City Detroit on Monday night. "You can't get too high when you have your best sales day ever. You can't get too low when you have your worst sales day ever."
Moloney and four other successful Detroit small business owners shared their experiences as part of the kickoff to Open City Detroit's 2012-13 season.
Dave Mancini, of Supino Pizzeria, Emily Linn of City Bird and Nest, Grant Lancaster of City Wings, and Moloney addressed the crowd at Cliff Bell's. Liz Blondy, owner of Canine to Five, moderated the panel.
Their collective message to would-be entreprenuers in Detroit is to find the right place, be prepared to do a lot by yourself, and be ready to work hard.
"It's a lot of work. It's a lot of late nights. … It's also a lot of fun," said Linn, who owns the home goods and local art stores in Midtown with her brother Andy Linn. "I feel like I'm always learning things, not necessarily things I want to learn about."
"You'll never have a week that goes according to plan."
Mancini said the early stages of starting his popular, and nationally recognized, pizzeria in Eastern Market required patience. He spent years looking for the right location to open his restaurant. Once he did open he had to find people just as committed and he was to making it a success.
"One of the hard things about starting a business in the early stages is the weeding out process on who's giong to work with you, and who's not," he said. "You're going to kiss some frogs. You're going to hire people who aren't going to work out."
Lancaster started City Wings at 2896 West Grand Boulevard in Detroit without money to actually start his business. He signed a lease on the building and then took a couple of months visiting friens and family around the country to help him pay for the build out.
"I told people I've got a dollar and a dream and we're gonna make it," Lancaster said. "This 99 cents isn't gonna make it. I need your penny to come along."
Starting a business isn't a straight line, the owners said.
Moloney jumped into the ice cream business from an 18-year career in banking. He quit his job and decided to open the "Custard Shack" in downtown Royal Oak as a seasonal business. When the Royal Oak site fell through he almost opened in Warren before settling in Ferndale. The first batch of ice cream – coffee toffee – he made jammed his new machine in front of his inlaws a few days before the business was scheduled to open.
"I started making ice cream the first day we were open," Moloney said.
Lancaster hired a builder for his restaurant, but didn't have enough money for an assistant so he became the assistant.
"I told him, 'Whatever you need you'd better teach me how to do it,'" he said.
Monday's panel, hosted by Open City and co-sponsored by D:hive, was titled "Do It In Detroit."
D:hive, a hub for resources to live, work, engage or start a business in Detroit, joined the Detroit Creative Corridor Center and Model D Media to present this season of Open City.
https://www.mlive.com/business/detroit/index.ssf/2012/10/open_city_detroit_biz_owners_s.html#incart_river_default
About Post Author