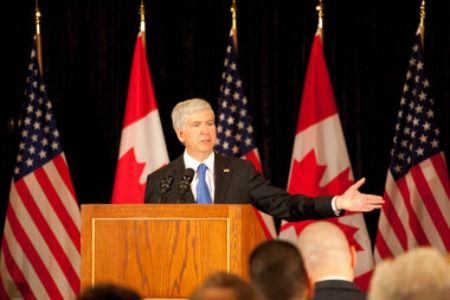 DETROIT (WWJ) – Michigan's governor and the Canadian Consul General took part in a town hall discussion Monday on the proposed bridge between Detroit and Windsor.
About two dozen protesters opposed to the governor and Canada's plans for a new international trade crossing demonstrated outside the Westin Book Cadillac Hotel on Monday.
Minister Malik Shabazz led the demonstration.
"The governor said that Canada's gonna pay for everything and Michigander's aren't going to pay for anything to the tune of $500 million," said Shabazz. "But his own department of transportation says the bridge is going to cost between $2.1 billion and $4.7 billion. Who's gonna pay for it? We are."
However, speaking at Monday's meeting, Consul General Roy Norton said Canada is financing the entire project.
"Canada assumes full responsibility for the new international trade crossing," said Norton. "(According to) the June 15th agreement — if there are cost overruns they're on us, not on the government of Michigan. If tolls are insufficient, they're on us.
The state of Michigan pays nothing for the project and faces no liability. That message needs to be told over and over again," Norton said.
Added Gov. Rick Snyder, "It's an extraordinary offer — a partnership where they're gonna pay the costs for this project."
Norton criticized Ambassador Bridge owner Matty Moroun's campaign against the new bridge.
"There are folks, namely the Morouns, who don't seem to want me to talk about the new international trade crossing. They would prefer that their multi-million dollar television advertising campaign of distortions and fabrications go uncontested," said Norton. "But my message to them is you can try but you will not succeed in shutting down the government of Canada."
Both Snyder and Norton agreed that passage of Proposal 6 would not prevent the bridge from being built but said court battles would likely delay construction.
https://detroit.cbslocal.com/2012/10/22/protesters-target-pro-bridge-town-hall-meeting/
About Post Author