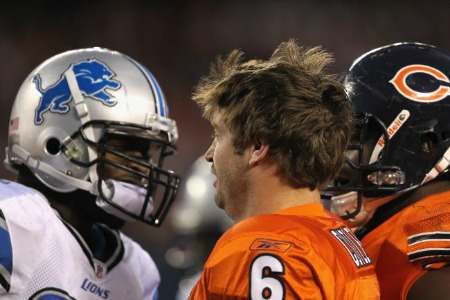 The battle for the NFC North heats up on Monday Night Football as the Detroit Lions travel to Soldier Field to take on the Chicago Bears.
Something will have to give between Matthew Stafford, Calvin Johnson and the Lions' passing attack facing a defense that has been creating many turnovers and touchdowns.
While Detroit has had a brutal slate in 2012, the Bears have feasted on rather lowly competition. Coming off of a bye week and an extra day of rest, they are sure to be prepared for this crucial divisional matchup.
Here is where you can catch the game and predictions on how it will shake ou
When: Monday, October 22 at 8:30 p.m. ET
TV: ESPN
Current Spread: Chicago (-6.5)
Over/Under: 47.5
Moneyline: Detroit (+220), Chicago (-260)
Injury Report
Detroit Lions (NFL.com)
Dwight Bentley, CB (shoulder) DOUBTFUL, Jacob Lacey, CB (concussion) OUT.
Chicago Bears (NFL.com)
Earl Bennett, WR (illness) QUESTIONABLE, Alshon Jeffrey, WR (hand) OUT.
Lions Player to Watch: DT Ndamukong Suh
The Achilles heel of this talented Bears team is unquestionably their offensive line, which is something Suh and the Detroit line will have to exploit.
After getting off to a rough start, Suh and Co. played very well against the Philadelphia Eagles, which is another team known for leaving its backfield susceptible to big hits.
Suh must be able to prevent RB Matt Forte from establishing the run, and drawing a double team will also help put pressure on Bears QB Jay Cutler.
Detroit is currently thin on the back end defensively, making Suh's play all the more important.
Bears Player to Watch: WR Brandon Marshall
It could be a huge day for the Pro Bowl wide receiver at home. With the injuries at cornerback for Detroit, Marshall is going to be a serious mismatch all game long.
As far as fantasy football is concerned, this week in particular would be a great one to put Marshall in; he looks to be more consistent now that Cutler is his QB once again.
With an extra week to prepare for a depleted secondary, Marshall should have a field day.
Key Matchup
It will come down to the Chicago secondary facing Stafford and Co.
While the Bears have the No. 1 rush defense in the league, their pass defense has appeared better than it has been due to so many turnovers.
As long as Stafford can be smart with the football, the Bears have proven that they will give up some yards through the air. They have just been the beneficiaries of bad decisions by inexperienced quarterbacks for most of the season.
The only time Chicago faced an elite quarterback—Aaron Rodgers—Cutler was not only badly outplayed, but they were soundly beaten as a team.
Here were the other QBs the Bears have faced: Andrew Luck, Sam Bradford and Blaine Gabbert.
Come on now.
Prediction
It's the second-consecutive make-or-break game for Detroit.
Stafford tends to be erratic, but Bears QB Jay Cutler may be even more so.
The more balanced team is definitely Chicago, but no matter how bad the Lions look at times, Stafford has the uncanny ability to bring them back. The man who threw for 5,000 yards in 2011 still has not pieced together a great game this season from start to finish, which makes him just about due.
If the NFL has taught us anything this season, it's that the unexpected result in just about every game continues to occur. The Bears are the favorites, but this will be a season-turning win for Detroit, who can't afford to drop to 2-4.
https://bleacherreport.com/articles/1380081-monday-night-football-schedule-2012-complete-tv-guide-for-lions-vs-bears