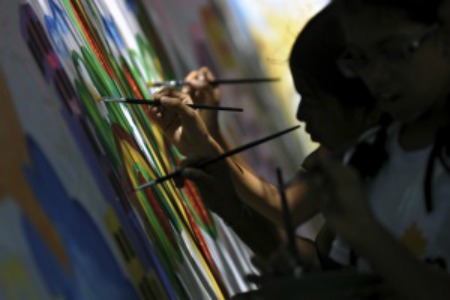 DETROIT (CBS Detroit) One of Detroit's highest rated schools is hosting a unique event Friday, led by its 88-year-old founder Amelia Wilhelm of Bloomfield Hills.
Willhelm is preparing for a two-mile walk on Belle Isle on October 19th to demonstrate her support for the Detroit Waldorf School—the independent school in Detroit's historic Indian Village neighborhood that she and her husband, Rudolf, founded 46 years ago and housed in a historic Albert Kahn building.
"Her commitment to walk is a testament to her lifelong dedication to the school that she was instrumental in shaping," the school said in a press release. "She is an inspiration to the students and a beloved matriarch of the school community, serving on the board of trustees from the school's beginning to the present day."
So, what is the Detroit Waldorf school? It's an independent, non-profit facility in Detroit with a small student body — 126 students in grades K-8 — high standards and commitment to the community. It's a five-star school on www.greatschools.org.
The Detroit Waldorf School was the city's only independent school at the time of its inception and is one of two independent schools in Detroit today, a spokesperson said.
"Even as middle-class families fled Detroit for the suburbs, the board and faculty of the Detroit Waldorf School remained steadfast in their commitment to stay in the city," the school said in a press release." More recently, in light of the economic challenges facing our community, the school developed a sustainable tuition program to make a Waldorf education accessible to more families.
Parents give it rave reviews.
"I can honestly say you cannot find a better education," a parent wrote on greatschools.org.
The Detroit Waldorf School Walk-a-Thon is a fundraiser supporting "sustainable tuition"and the curriculum that integrates academics with "rich artistic experiences and practical work to awaken in students a lifelong love of learning."
Donate to the school HERE.
https://detroit.cbslocal.com/2012/10/18/rare-independent-detroit-school-celebrates-46-years/
About Post Author