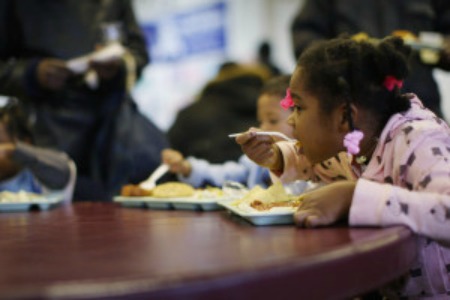 DETROIT (WWJ) – General Motors CEO Dan Akerson and his wife Karin, are donating $300,000 to Capuchin Soup Kitchen to kick off the 40th Annual SOCK Dinner, sponsored by Buick.
Celebrity Chef Michael Psilakis will show off his cooking skills at Friday's fundraiser.
"It's going to be a full night of events, singing dancing, eating, just an overall good time with the hopes of being able to raise money to support this soup kitchen's needs that serves over 2000 warm meals (a day)," said Psilakis.
"It's really amazing, I give these guys so much credit, to think 2000 people come through these doors everyday, and they are fed is really a remarkable thing. I'm here to do everything I possibly can to support them," he said.
The dinner starts at 6 p.m., at the Marriott Hotel inside the Renaissance Center GM headquarters in downtown Detroit.
Once billed as the "Men's Only" Baseball dinner, SOCK first originated in the early summer of 1942. More than one hundred men showed up for the dinner which was held in the old Soup Kitchen building on Mt. Elliott Street.
Each attendee paid five dollars ($5.00) and listened to Connie Mack talk baseball for over two hours.
Over the years such notables as Ted Williams, Casey Stengel, Joe Garagiola, Mickey Mantle and Satchel Paige came to the event to talk baseball.
Read more about the SOCK fundraiser, here.
http://detroit.cbslocal.com/2012/10/19/capuchin-soup-kitchen-gets-generous-donation-to-kick-off-sock-fundraiser/