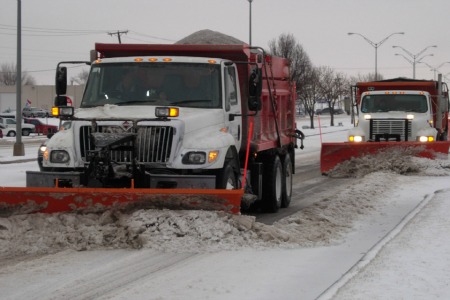 SOUTHFIELD (WWJ) – Drivers, get ready for safe and smooth winter driving. That's the plan, at least, in Oakland County.
The Road Commission for Oakland County is already getting started on their preparations ahead of this winter, which means replacing two salt domes.
Drivers on Lapeer Road in Lake Orion and through Southfield along the Lodge near American Drive may have noticed the old domes are gone.
"Well we're replacing one here in Southfield and one in Lake Orion," Matt Mountain, ROCC superintendent of the Southfield garage, told WWJ Newsradio 950′s Mike Campbell. "The salt domes are getting old and deteriorating. So it's time for new ones."
Mountain said the diameter of the dome at the garage in Southfield is actually about the same size as the old one, but the new one will be taller and that means they'll be able to store more salt.
"Actually, this one here, they put the foundation in. They'll take it and it'll be kind of like Silverdome was. They'll blow that thing up and then they do all the work from the inside and the canvas that is blown up is actually the outside of the salt dome when it's completed," he said.
What did they do other than keep rain off the salt?
"Well that's what we needed to do. Keep the rain off the salt because otherwise it has a tendency to clump up," Mountain said. "When it clumps up, it doesn't come out of our augers or our spinners on the trucks during winter."
Mountain said he doesn't think salt will be an issue. They are down about 50 drivers but the big concern for him is the aging vehicles. He said they haven't been able to afford to replace a truck since 2007.
https://detroit.cbslocal.com/2012/10/17/road-commission-preps-ahead-of-winter-salting-season/
About Post Author