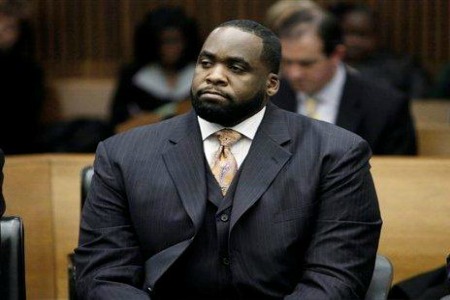 DETROIT (WWJ) – Could a plea deal be in the works for a co-defendant in the Kwame Kilpatrick corruption case?
Former Water and Sewerage Department Director Victor Mercado and his attorneys were excused Wednesday morning from a federal courtroom in Detroit, but remained at the courthouse reviewing documents.
As the trial continued, there was some unofficial chatter that an agreement with prosecutors could be in the works.
WWJ Legal Analyst and Talk Radio 1270 host Charlie Langton said, if there is a deal discussion, Mercado will want one big question answered: "How much prison time am I gonna get? I think that he's gonna have to get something, and, second of all, will he have to testify against Kwame Kilpatrick or (city contractor) Bobby Ferguson?"
Added Langton, "Victor Mercado (was) head of the water department The water department, in this particular case, was the enterprise, so to speak, that got a lot of money for contracts — most of which went to Bobby Ferguson."
Langton said there were some estimates that doing work for the water department allowed Ferguson to get $120 million. "The potential money that Ferguson, and only Ferguson, got from the water department is extraordinary.
"Now, the government would want Victor Mercado to say, yes, come and talk with us, say that Bobby Ferguson had to get the contract and you're good to go," Langton said. "For that, we'll give you a deal — maybe no jail time, maybe a little, but I do think that he's going to have to do something because he was part of this conspiracy from day one. That's what the government said in the indictment."
Kilpatrick, his father Bernard, Ferguson and Mercado are all charged with fraud, bribery, tax crimes and a racketeering conspiracy. All four defendants have pleaded not guilty to the charges.
Federal prosecutors and defense attorneys questioned witnesses on Wednesday about various payments to the Kilpatrick Civic Fund.
Testimony revealed that money from the fund was used to pay for a new apartment where the ex-Mayor stayed after he was booted out of office in 2008. Kilpatrick stayed at the Park Shelton apartment before he went to jail.
It was also revealed Wednesday that checks from the civic fund were also used to send Kilpatrick's kids to pre-school. Defense attorneys argue that the money was used to educate voters, but prosecutors disagree, saying that Kilpatrick, his relatives and friends used money from the fund for personal and political gain.
The Kilpatricks are accused of shaking down contractors who wanted business or favors from Detroit city hall. The government claims Kilpatrick received hundreds of thousands of dollars in cash through bribery, extortion and other methods when he was mayor, from 2002 to fall 2008.
Kilpatrick resigned from office amid an unrelated text-messaging scandal and served 14 months in prison for violating probation in that case. He now lives in Grand Prairie, Texas.
http://detroit.cbslocal.com/2012/10/17/possible-plea-deal-rumored-in-detroit-corruption-case/