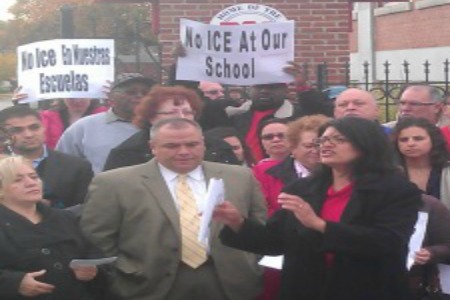 DETROIT (WWJ) – A Michigan lawmaker says immigration officials went too far on Tuesday when they tried to apprehend two men near schools in Southwest Detroit.
Representative Rashida Talib (D-Detroit) said the men, both fathers, were approached by Immigration and Customs Enforcement Agents while their children watched.
Jorge is seen with his daughter at a rally in front of Cesar Chavez High School (credit: Alliance for Immigrants Rights & Reform – Michigan).
According to the Alliance for Immigrant Rights & Reform Michigan, Hector Orozco was dropping his son off at Cesar Chavez Middle School, when he was taken into custody.
Another man, named Jorge, was stopped just outside Manuel Reyes Vistas Nuevas Head Start Center. He took refuge inside the school, where he called Talib.
"We were taking the children to school, the same as we do every day," he said. "The immigration agents stopped my car, and were about to arrest me. Then my son begged them, 'Please, don't take my dad. He's just taking us to school.' That's when the agent told me to drop the children off and then come back to my house where he would be waiting. It was terrifying."
Jorge, whose last name was not provided, never returned home.
"As a community member I am outraged, and as a mother, I am heartbroken," said Tlaib, who says ICE has agreed agents will not approach immigrants near schools or churches.
"Why not at their homes? Why not away from their children? Why not away from the schools as they promised us? … There are policies in place for the protection of our families and our children and they need to be abided by," Talib told WWJ Newsradio 950′s Marie Osborne.
"The leadership of Detroit ICE is either unwilling or unable to control their agents, so that's why we're calling for the immediate resignation of Detroit ICE Enforcement Director Rebecca Adducci," she said. "We need immediate accountability for this out-of-control department."
In a prepared statement, officials said ICE agents did not violate any policies, including approaching immigrants near sensitive areas, in the Tuesday afternoon operation.
Orozco remained detained on Wednesday. A rally as held outside Cesar Chavez Academy on Wednesday as advocates continue to call for his immediate release.
https://detroit.cbslocal.com/2012/10/17/advocates-cry-foul-over-immigrant-arrests-near-detroit-schools/
About Post Author