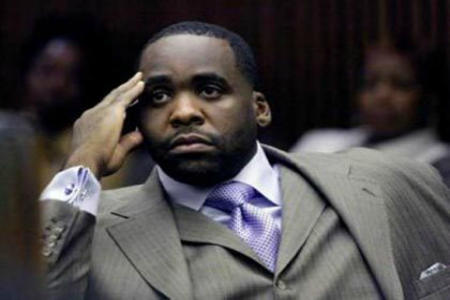 DETROIT (WWJ) – Testimony in the federal corruption trial of ex-Detroit Mayor Kwame Kilpatrick and three others is again focusing on the Kilpatrick Civic Fund.
Tuesday morning federal prosecutors called witnesses from financial firms in Chicago and Seattle that managed parts of the city's pension funds. Those companies donated thousands of dollars to the civic fund, but one witness said she thought the fund was a charity.
Prosecutors have been trying to point out that Kilpatrick and his relatives and friends used money from the Civic Fund for personal and political gain.
Defense attorneys have been saying the money was used to educate voters.
WWJ's City Beat Reporter Vickie Thomas is in the courtroom following the trial. Thomas' notes from this morning's proceedings:
9:00 a.m. The day starts out with all the attorneys gathered near the judge's bench; this lasted for about 6 minutes.
Spotted in the hallway by the coffee shop before proceedings start: ex-mayor Kwame Kilpatrick's former crisis manager Judy Smith. She will be testifying.
On the witness stand: Mary Pugh, Pugh Capital Management, located in Seattle, Washington. Her company did work with the Detroit fire and police pension funds.
Cross Examination:
Pugh testifies she donated to the Kilpatrick Civic Fund in 2007 and 2008. A letter faxed to her office asks for a donation. The letter states the purposes of the fund and states "no funds from the civic fund will be used for political campaigns."
Pugh testified that she donated $500 first and then in 2008 she donated $1,500. She says she would not have donated had she known it would have been used for the mayor's personal expenses.
Under further cross examination by Kilpatrick's attorney, Jim Thomas:
Pugh testifies she was contacted by Adrian Anderson, a consultant with the civic fund, before the solicitation of the money.
Thomas asks: "Did you know what 501 c 4 organizations can use their funds for?"
Pugh's response: "Not all."
She says she doesn't know how her donation was spent.
Stay with WWJ Newsradio 950 and CBS Detroit.com for continuing coverage.
http://detroit.cbslocal.com/2012/10/16/ex-mayors-civic-fund-in-the-spotlight-at-kilpatricks-corruption-trial/