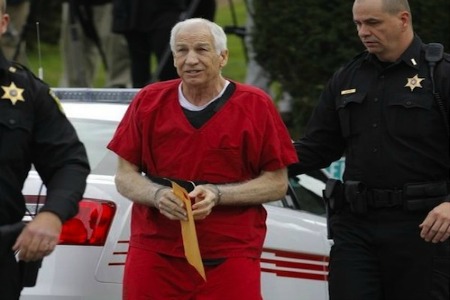 BELLEFONTE, Pa. — Former assistant Penn State football coach Jerry Sandusky was sentenced Tuesday to 30 to 60 years in prison for sexually abusing 10 young boys over a span of 15 years.
Sandusky, 68, once a celebrated figure in college sports, stood in a red jumpsuit when Judge John Cleland imposed the sentence. He had faced a maximum of four centuries behind bars without parole.
In his statement before Cleland announced the prison term, Sandusky insisted he was innocent.
"I didn't do these alleged disgusting acts," he said, echoing a statement he made on radio yesterday. "I speak today with hope in my heart for a brighter day…this is the worst loss of my life."
Sandusky has been locked in Centre County prison since June 22, when a jury of seven women and five men found him guilty of 45 out of 48 counts against him for sexual abuse of 10 young boys. The allegations led to the ouster of university president Graham Spanier and longtime Nittany Lions football coach Joe Paterno, who died in January.
Three victims spoke in court and lead prosecutor Joseph McGettigan read letters from a victim and the mother of another boy abused by Sandusky.
"It's time to stop coming up with excuses for your behavior," said the first victim to speak, adding that the abuse led him to Christianity. "If you remain in denial…you won't be able to receive the forgiveness that only he [God] offers."
The victims who spoke were not identified by number as they were in court documents and during testimony. They used the opportunity to speak on Tuesday to convey the anguish they still feel.
"The sentencing of Jerry Sandusky will never erase what he did to me," said one man, "but he must pay for his crimes for which he has been properly convicted of."
"You should be ashamed of yourself," said another victim. "I want you to know I don't forgive you and never will forgive you."
At trial, prosecutors said Sandusky was a "predatory pedophile" and a "sick, disturbed man," who targeted "the most vulnerable kids, kids in need."
Defense lawyer Joe Amendola countered that Sandusky was the victim of a grand conspiracy and that prosecutors had no physical proof he had molested anyone. Because of the allegations, "everything [Jerry Sandusky] ever loved, everything he's ever built, and everything he's ever stood for — it's gone," Amendola said.
http://www.huffingtonpost.com/2012/10/09/jerry-sandusky-sentenced_n_1943342.html