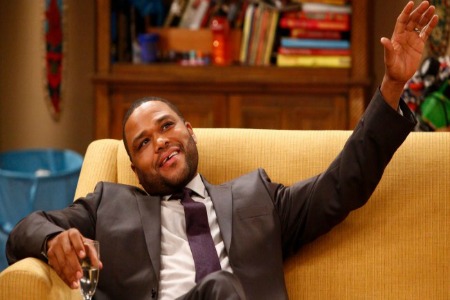 Anthony Anderson's got the chops, swagger and consistency necessary to navigate the worlds of drama and comedy without a strain. Yet, surprisingly, if it wasn't for an early blow to his pride and a couple Heinekens from a friend, he may have never made it past a ten-second performance.
Now starring in Jimmy Fallon's new NBC comedy Guys with Kids, the 42-year-old tells theGrio, during a set visit October 4th, that his days in Hollywood began with a devastating ego trip and corresponding plunge.
"When I first started out, I didn't have a point of view – I was just all over the place – and that was a detriment to me doing stand-up," Anderson recalls, remembering his first gig at Regency West in Leimert Park. "The first three comics that got up before me, I was heckling them…I got the biggest laugh of the night as a heckler…So, I wrestled with the fact of whether I should get up and let them know that was me talking all that sh*t, or if I should leave since I got the laughs that I needed."
Of course, he opted to go for it, but unfortunately, the hopeful comic would quickly sit back down.
"They didn't let me get a word out," he says. "They just politely turned my mic off, and I was like, 'F**k it. I don't need a mic.' So, I threw my mic down. And then they politely turned the lights off and left me in the dark, and I walked off the stage as they started to spew hatred at me. And it kept me off stage for about eight years."
Nearly a decade later, after a push from a pal and two rounds of beer, Anderson felt encouraged enough to try it out again, and this time, he owned it. The future television star took over the stage with a creative focus he's maintained from that point in his career to where he's at today.
While Anderson's beginnings may have been in throwing out jokes at a theater, his resume to date runs the gamut, from roles in films like The Departed and Transformers to TV shows such as The Bernie Mac Show, Law & Order, and All About the Andersons, which he also created. According to the versatile actor, such diversity in style was his mission from the beginning.
"I used to have at the bottom of my resume when I was starting out – it sounds so corny now, but I really thought it was cool – 'I have range like a rover,'" Anderson jokes. "I'm very fortunate to be able to dance in both worlds. More often times than not, you're either one or the other."
His latest gig, nevertheless, is all about the laughs. In a throwback to the multi-camera days of TV yore, Anderson has taken on a family comedy based around three thirty-something dads raising children with minimal help from their wives (or ex-wife). Anderson is paired with former Cosby Show star Tempestt Bledsoe, as a couple with two young boys and a baby.
While reviews of the sitcom have been mixed, most critics have called the duo of Anderson and Bledsoe particularly strong, creating an entertaining dynamic, and what Anderson agrees is a positive image of the African-American household.
"It's good to see a loving black family on television," he remarks. "It's something that hasn't been around for awhile. I don't watch too much television, but I haven't seen it when I do watch. And nothing against anybody out there, but to see Tempestt and I – the relationship we have as a couple and with our children – it's good reinforcement of an African-American family on network television."
Anderson admits to feeling some pressure when it comes to the show's success, but he attributes that mostly to the fact Bledsoe "saved the network once" and he wittingly doesn't want to "fail as her husband." More than anything though, he says he's grateful to be in the place he's at, with the people he's with, and doesn't want an unnecessary load to drag down the positive energy.
"There are a whole lot more serious things going on out there in this world," he remarks. "We get to live our dream every day. I don't even consider this work. This is play."
https://thegrio.com/2012/10/08/anthony-anderson-its-good-to-see-a-loving-black-family-on-television/