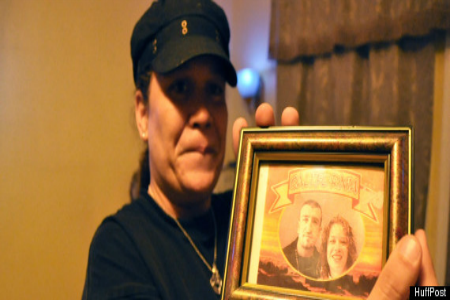 Elizabeth Burgos is hoping a creative idea will help her sell her house, reunite her children with her husband of 15 years and make one lucky person a homeowner for the low price of $100.
She began accepting $100 donations, and if she gets 250, she'll enter each person into a drawing to win her home outright in southwest Detroit. One lucky winner will receive her home, in the form of a quick deed, signed just after the Oct. 28 drawing.
Burgos hopes to raise $30,000, enough to cover her house's back taxes and move her and her three children to Germany, where her husband Hashim Attisha settled after being deported to Iraq in May of 2010 on her birthday, she says. Attisha had lived in the U.S. since he was seven.
"I don't want anyone to go through what I've gone through," Burgos said, who lost her job shortly after Attisha left, staying with family in Iraq, leaving for Syria and eventually settling in Germany where he has attained residency. "It got to a point where I didn't know whether I was coming or going."
The couple bought the house for $50,000 and have put $30,000 of work into it, including a large, renovated kitchen. Bugo received a $27,000 offer on the house in February, but didn't want to sell before Attisha was settled. Her most recent offer was $15,000.
So she came up with the idea to raffle off the house, and has since received donations locally and from other states. Some have made donations on behalf of others. If one man won, Burgos said, he plans to give it to a family he has seen living under an overpass; another reached out to someone looking for a house they found through Burgos' Facebook page. Some have donated on behalf of organizations that serve the hungry.
But there's no telling whether the next owner will want to keep serving weekly meals to the homeless in the lot across from the house, the way Burgos does. When she started, she was serving about 20 on her own at the weekly Garden of Hope picnics; now it's more like 70, and different community groups have stepped in to help.
"It opened my eyes," Burgos said. "I thought, 'Why is my life is so bad,' but then coming to hear the stories of people that we serve, I was like, 'Liz you're OK, you're blessed.' These people have it hard."
"Now I finally got it going, and I have to walk away," Burgos said with some regret about the picnics, which she referred to as her "baby."
"But it's in good hands," she added.
Detroit has seen the $100 house before, and thousands of properties will go at what most would consider a steal in the ongoing foreclosure auction. But Burgos' 1917 house, while needing a little "TLC" as she puts it, comes in good condition, with dark wood finishes, three bedrooms and one and a half baths.
Burgos plans to hold open houses at her home, located at 4019 Gilbert, on Fridays and Sundays until the drawing on Oct. 28.
With the money she raises, she'll pay off the back taxes on the house, approximately $3,200, buy plane tickets and prepare to settle in a home near Munich. She said her children are ready to see their dad again.
"I've lived in Detroit all my life … but I'm just ready to go."
https://www.huffingtonpost.com/2012/10/08/elizabeth-burgos-100-house-detroit_n_1944186.html?utm_hp_ref=detroit
About Post Author