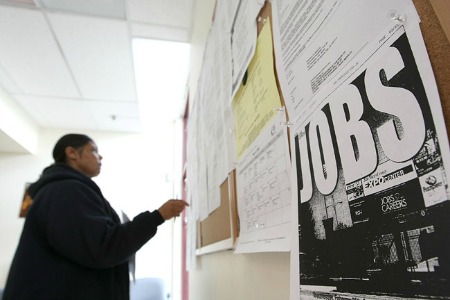 The nation's unemployment rate dropped below 8 percent in September to its lowest rate since President Obama took office, the Labor Department said Friday.
Enlarge This Image
While employers added only a modest 114,000 jobs last month, the jobless rate declined to 7.8 percent from 8.1 percent, even though more people entered the labor force.
Adding to the positive news, job gains were revised upward by 40,000 for July (to 181,000) and by 46,000 for August (to 142,000), which had been considered a disappointing month, casting a slightly rosier hue on the summer slowdown.
The private sector, which has been adding jobs since March 2010, grew by 104,000 workers in September. Governments, where cuts have been a drag on the recovery, added 10,000 jobs.
Manufacturing, one of the bright spots that Mr. Obama has showcased throughout the re-election campaign, fell 16,000 jobs after losing a revised 22,000 in August, and construction jobs grew by 5,000. The number of temporary jobs, usually considered a harbinger of future growth, fell 2,000.
Coming a month before the presidential election, the jobs report offered ammunition for both sides as the candidates vie to convince voters that each is better equipped to steer the economy.
Mr. Obama can point to the 24th straight month of job growth after a severe financial crisis and a drop below the stubborn 8 percent jobless rate that has dogged his presidency. Republicans can continue to criticize the slow pace of improvement.
Consumers and businesses, too, seem to have divergent views of the economic situation. Consumers have shown increasing confidence as stocks rise and home prices stabilize.
Business leaders have been hanging back, though, more focused on global economic slowing and domestic concerns. They say they are uncertain what the election will mean for the business climate and are waiting in part for a resolution of the so-called fiscal cliff, a host of tax increases and budget cuts that will be triggered at the end of the year if Congress fails to act.
Harry Kazazian, the chief executive officer of Exxel Outdoors, a maker of camping equipment in Alabama, said the election, the fiscal cliff and rapidly shifting regulations had put him in a cautious mood.
With sales on the rise, Exxel has restarted a capital investment plan that it put on hold three years ago, but is doing so slowly. "We're moving forward, but we're doing it in steps rather than being much more aggressive and putting ourselves out there," Mr. Kazazian said. "I wouldn't be surprised if things start turning the other way, meaning down."
But at a Walmart in Atlanta, shoppers were loosening the reins a bit, buying what they described as small indulgences like scented candle oil and seasonal beer.
Linda Avery, 50, a food service manager, said her income had not changed but her daughter had moved out of the house, reducing her food and utility expenses.
Michael Peacock, 43, said that although his house was in foreclosure, his chosen field, online marketing, was improving to the point where he could even turn down some jobs that were outside his specialty.
"I can see people shopping," Ms. Avery said, surveying the store. "You just feel like things are getting a little better."
The polling firm Gallup pinpointed September's rise in consumer confidence to the first day of the Democratic National Convention, and said it was almost entirely because of increased optimism among Democrats, while confidence among Republicans held steady at low levels. But Gallup could not say whether politics or improving economic conditions drove the change.
The discrepancy from their mood and the outlook of companies can be easily explained, economists said. "Businesses are much more forward looking," said Ellen Zentner, the senior United States economist for Nomura Securities International.
Concerns over the fiscal cliff had begun showing up in business surveys in April, she said. "It's been weighing on their investment and hiring decisions for quite some time."
In a survey of 400 chief financial officers conducted this summer, Grant Thornton, a management consulting firm, found that many had shifted from neutrality to pessimism, with 45 percent of respondents saying they expected their work force to hold steady and 18 percent saying they expected it to shrink over the next six months. A large majority said they expected both health care costs and salaries to increase.
Stephen Chipman, the chief executive of Grant Thornton, said there appeared to be genuine growth in the technology, high-end manufacturing and energy sectors, while growth in health care was largely a result of consolidation and increased efficiency, and financial service hiring was largely driven by the need to comply with more regulations.
Before Mr. Obama took office, he pledged that his stimulus plan would keep unemployment from rising above 8 percent, based on projections that greatly underestimated the depth of the recession. Instead, unemployment has exceeded 8 percent since February 2009, peaking at 10 percent in October of that year.
There are now almost the same number of jobs as there were when Mr. Obama took office, but there are 426,000 more than when the economy stopped hemorrhaging jobs in February 2010. A mere 62,000 increase in the number of jobs would allow Mr. Obama to claim a net increase in jobs over his tenure.
This year, the economy has added an average of 146,000 jobs per month. Economists say that job growth of 100,000 to 175,000 a month is essentially neutral in terms of its effect on the election, while anything higher would favor the incumbent.
The government's first estimate of September's payrolls, while eagerly awaited, is less than precise and will be revised in coming months as more data is collected and verified. In an annual recalibration last month, the Bureau of Labor Statistics estimated that there were actually 400,000 more jobs added in the 12 months that ended in March than was previously thought. That benchmark will not be incorporated into the monthly jobs figures until early next year.
"The economy seems since the recovery began to have three gears," said Patrick O'Keefe, a labor economist and director of economic research at J. H. Cohn, an accounting firm, "slow, idle and reverse. It's stuck in slow. We don't have a gear faster than slow."
https://www.nytimes.com/2012/10/06/business/economy/us-added-114000-jobs-in-september-rate-drops-to-7-8.html?pagewanted=2
About Post Author