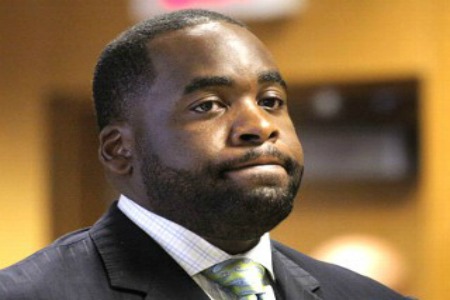 "A true friend stabs you in the front." Oscar Wilde
Betrayal.
There ex-mayor Kwame Kilpatrick sat in federal court this morning, bow tie and suit, leaning at first to the left, looking dour, as if someone was about to punch him in the stomach.
In front of him, was Emma Bell, his former chief fundraiser, betraying him, testifying for the government that she gave Kilpatrick more than $200,000 in kickbacks from donations to various funds including the Kilpatrick for Mayor Fund.
She once looked at him as a son. This morning, she could barely look at him. And at times she could barely talk, pausing when questioned by prosecutor Michael Bullotta.
"It's not easy for me to be here, sir," Bell said. She explained that she had a strong relationship with Kilpatrick and his family since the 1970s. They all attended the same church.
She testified that her first commission check for fundraising for Kilpatrick was for $100,000 in 2003. But she said Kilpatrick suggested he get a piece of her commission, so she eventually gave him a kickback for $40,000 or $50,000.
Her testimony is the most damaging to date. The government has alleged that she made about $900,000 in commissions from fundraising and gave Kilpatrick about $250,000 in kickbacks. The trial is in its second week. Kilpatrick faces multiple charges of bribery, extortion and income tax evasion.
She's not doing it out of the goodness of serving justice. She's pleaded guilty to income tax evasion and is expected to get a break on her sentence for helping the prosecution. Her plea agreement calls for a sentence of 18-24 months, but she could get 9 to 12 months with her cooperation. She must also pay $334,000 in back taxes as part of her agreement.
During a break, Bell walked past Kilpatrick and his attorney Jim Thomas. Thomas, according to Tresa Baldas of the Free Press, said something to Bell that appeared to be an attempt to comfort her. She replied: "Thank you sir."
Earlier in the morning, alternate juror number 5 had been excused. The judge did not explain why. Another juror was dismissed earlier this week. That means they are down to four alternates. There are 12 regular jurors.
During cross examination, Kilpatrick's attorney tried to suggest that Bell never gave Kilpatrick money because she needed it to pay for gambling, and that she was only saying she gave the mayor money to get a reduction in her pending sentence.
Thomas questioned whether she would actually have taken money out of her bra at the mayor's office. She said she did it discreetly and had no problem doing so.
Thomas again tried to suggest she gambled her money away. She said, not all, because she had to share it with Kilpatrick.
"That's what you say," Thomas said.
http://www.deadlinedetroit.com/articles/2132/betrayal_of_a_mayor_confidante_says_she_gave_kwame_200_000-plus_in_kickbacks