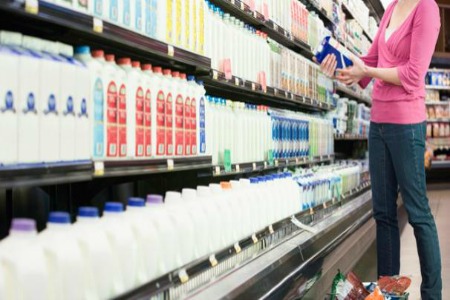 Got milk? Your answer may be no come January when milk prices could double.
If the Farm Bill is not renewed by Congress by the end of the year, the price of milk could surpass $6 a gallon, according to CBS News. That would be a big problem for Americans who are already spending on average 10.6 percent of their grocery budget on dairy products.
The Farm Bill currently regulates the price of milk. Without the bill, milk prices are projected to climb around four times higher than what the current bill permits, which could lead to skyrocketing prices in grocery stores across the country.
"My lord, the grocery stores, it'll just be unbelievable," U.S. Agriculture Secretary Tom Vilsack told the Chippewa Herald "So Congress has to get this done."
Dairy prices are already climbing due to this summer's record-setting drought. While cows in Illinois typically produce around 90 pounds of milk per day, today they're producing around 60 pounds, Jim Fraley of the Illinois Milk Producers Association told USA Today.
Milk isn't the only refrigerator staple that is fueling an uptick in food prices. Prices for snacks like chicken wings, chips and burgers have skyrocketed as much as 20 percent and an increase in the price of feed for pigs due to the drought could lead to a bacon shortage in 2013. The drought has also caused fluctuating fruit prices, according to Business Insider.
Bloomberg News reported that Americans could pay between 3 and 4 percent more for food next year on top of this year's 3.5 percent increase, according to data from The Department of Agriculture.
Republican leaders in the House of Representatives have said they will not consider the new farm bill until after the November elections, according to ABC2 News.
http://www.huffingtonpost.com/2012/10/02/milk-prices-farm-bill_n_1933217.html?utm_hp_ref=business&ir=Business