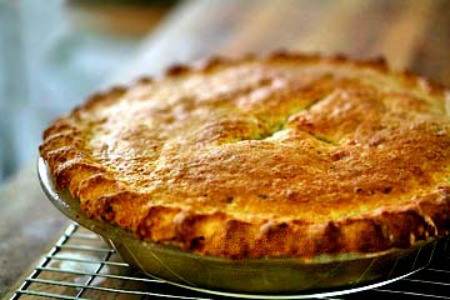 Whether it's apple pie, rhubarb pie or a savory slice of cheesecake that will cure your sweet-tooth craving, these restaurants deliver. For the upcoming holidays and changing seasons, don't skimp out and simply stroll out to the supermarket for a quick pie. These restaurants are offering handmade sweets with the freshest ingredients.
Achatz Homemade Pie Co.
1063 E. Long Lake Road
Troy, MI 48098
(248) 457-1372
www.achatzpies.com
Though not entirely a restaurant and more of a local bakery, this Troy establishment has some of the best "just like mom used to make" homemade pies. Fillings include favorites like strawberry rhubarb for a reasonable price at between $3.29 to $3.79 for individual slices and 10-inch full pies at $14.99 to $17.99. If rhubarb isn't your favorite, Achatz also serves a decadent pumpkin crumb pie, French pecan pie and even savory pot pies.

Opus One Restaurant
565 E. Larned St.
Detroit, MI 48226
(313) 961-7766
www.opus-one.com
When you're out for a night on the town enjoying the sights or perhaps about to see a show (or dinner theater at the restaurant), Opus One in Detroit offers a fine-dining atmosphere in what was previously an old taxi garage. The building was beautifully renovated and now offers a full-course dinner menu, bistro and some of the best handmade ice cream in town. Choose from the pastry cart where each tempting treat is in plain sight for the satiated diner. Options often include large slices of pie or cheesecake, offering both chocolate and fruity variations.
Kilwins
162 N. Old Woodward Ave.
Birmingham, MI 48009
(248) 646-5940
www.kilwins.com
Though a bit pricey, generally around $12 to $20 for the pastries and desserts, Kilwins is still a consistent favorite in Birmingham and the surrounding area. All of the desserts are homemade, freshly baked and given a touch of loving care to make local favorites like the fudge and cashew brittle simply the best and a must-try. Kilwins' cinnamon buns are perfect for autumn, providing a great treat to start out your crisp morning.
The RawCafe
4160 Woodward Ave.
Detroit, MI 48201
(313) 778-9774
www.therawcafe.com
Who says raw-food restaurants can't have wonderful desserts? This Detroit restaurant, which is a completely vegan and vegeratarian raw-food eatery, has become quite popular for its unique twist on serving food as well as its amazing apple crisps and cashew cheesecake. If you're in the mood for unique food in an unfamiliar atmosphere, The RawCafe offers reasonably priced desserts at $5 to $10. You would have never guessed that these treats came from a health-conscious recipe.
The Hudson Cafe
1241 Woodward Ave.
Detroit, MI 48226
(313) 237-1000
www.hudson-cafe.com
Ready for some dessert for breakfast or maybe a sweet and delectable brunch? The Hudson Cafe in downtown Detroit can certainly deliver, especially with treats like its red velvet pancakes and graham cracker French toast. The cafe also offers a wide varieties of autumn-inspired pies, coffees and hot chocolates. Although a dining experience for two will normally cost around $40 if you're going for a full meal, taking the time to drop by and try some of the sweeter options will certainly delight.
http://detroit.cbslocal.com/top-lists/best-autumn-desserts-in-the-detroit-area/