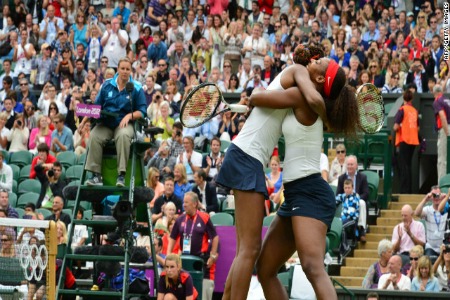 Tennis players flame out as quick as a comet streaking through the sky. However, Serena Williams is knocking out time and opponents.
Recently Williams won her fourth US Open title. It was not easy as she was in a fight for her life, at one point two points from defeat, she suddenly regained her composure and her game, coming back to win the last four games and beat No. 1-ranked Victoria Azarenka 6-2, 2-6, 7-5 at Flushing Meadows. The win was her 15th Grand Slam title overall..
It was the first three-set women's final in New York since 1995, and Williams came through with a late charge. She is the first woman to win Wimbledon and the U.S. Open in the same season since she did it a decade ago.
Williams improved to 26-1 since a first-round exit at the French Open in late May. She has gone on to win Wimbledon, the London Olympics and US Open singles titles. Along with her sister Venus, Serena also has won doubles titles at Wimbledon and the London Olympics.
At 31, Serena, is playing some of the best tennis in her life and has ventured on a streak that is indeed noteworthy. In fact, it has put her in the status on one of, if not the greatest female tennis player ever.
Already, Serena is in very elite company. With her 15th singles Slam she's only 3 away from tying Chris Everett and Martina Navratilova and 7 from equaling Steffi Graf's 22. (Margaret Court holds the record at 24.)
Serena was the oldest women's champion at Flushing Meadows in nearly four decades. And yes, Slams are certainly tougher after age 30, but no matter, there is Serena. She has put Father T on hold!
Currently, Serena's 30 Slam titles places her ninth on the all-time list (15 singles, 13 doubles, and 2 mixed doubles). She is the most recent player, male or female, to have held all four Grand Slam singles titles simultaneously (2003) and only the fifth woman ever to do so.
In doubles, Serena and her sister Venus have been unbeatable in Grand Slam finals. And, oh yes, Serena is also a two time winner of the WTA Tour Championships and four Olympic Gold Medals (singles in 2012, doubles in 2004, 2008 and 2012). And, in a recent appearance on the David Letterman Show, Serena predicted that she will play in the 2016 Olympics at Rio De Janeiro.
But Serena's much-heralded career has not been without controversy. Not surprisingly, her father and coach, Richard Williams, was also no stranger to controversy. In the early 90′s, when his daughters were juniors, Richard kept Serena and Venus (1 year older) out of competition. Despite the oft-expressed criticism that his daughters would suffer, Richard boldly predicted that both girls would be #1 and each would win numerous Slams.
Most scoffed at Richard's controversial methods but he would now appear to be prophetic. And yet his unconventional attitudes seemed to hover over the Williams sisters. Some criticized Richard for coaching his daughters to trust no one. Lindsey Davenport, former No. 1 player, said that when the Williams' first arrived on the tour she reached out to them but was rebuffed.
In 2001, there was more controversy. During the Tennis Master Series tournament in Indian Wells, Venus withdrew just minutes prior to her semifinal match with Serena, claiming an injury. But others contended the withdrawal was due to Richard not wanting his daughters to play each other.
Fans were bitterly disappointed when Venus withdrew and Serena was subsequently booed during the championship match against Kim Clijsters and during the trophy presentation. Richard accused the crowds of overt racism.
I was at that tennis match and sitting behind Richard and the Williams family as Serena took the court. There were indeed a number of racial insults tossed at the family for Richard not letting his daughters beat each other up.
It turns out he knew his daughters better than anyone, as Serena is so competitive that playing them against each other early in their careers could have drove a giant wedge between them.
Family comes first in the Williams family and it is one of the traits that had centered them and drove them to unforeseen heights. It has grounded them and given them a foundation that is solid as a rock.
Leland Stein can be reached at lelstein3@aol.com or Twitter at LelandSteinIII