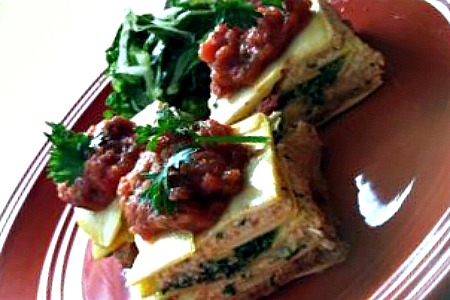 (Photo:www.facebook.com/tryitraw) Lasagna crafted from squash noodles is one of the menu options at the new "Try It Raw" in Birmingham.
BIRMINGHAM (WWJ) Think nuts and sprouts are just for California residents? Think again. The growing trend of eating raw food has taken root in Birmingham
"Try It Raw" opened its doors on East Maple in Birmingham just two months ago and already has a growing clientele looking for healthy meal options. WWJ Newsradio's Marie Osborne went to take a closer look.
"All the food is raw, uncooked," said Michael Severance, co-owner of the restaurant, adding they will have just a few cooked items for winter, including vegan soups. Raw food fanatics claim nutrients and enzymes are better preserved in uncooked food and believe exclusively eating cooked food adversely affects the body's alkaline levels.
The usual m 'Try It Raw" menu includes fresh, organic tacos, their version of French fries, raw lasagna made with squash noodles, a cereal made with apples, carrots, oranges and coconut. There's even a spiced nut and seed pate.
Everything is made to order, gluten free, and organic. A big bowl of bean sprouts greets customers at the door.
Moms with strollers are a big part of the clientele, looking for something healthy and palatable for kids, staff says. But no matter who you are following a raw diet means you're going to have more energy and lose weight, the owners said.
"We have one customer who's been eating here every day for like a month and he says he's lost 5 pounds," Severance said.
But it doesn't come cheap: smoothies start at $5. And prices are higher than average for a reason, owners said, with some menu items require cracking open an entire coconut as just one ingredient in a smoothie.
"We're probably using the highest quality ingredients of anyone in town," Severance said.
The restaurant is open 7 a.m. to 6 p.m. Get more information HERE.
http://detroit.cbslocal.com/2012/09/27/try-it-raw-takes-root-in-birmingham/