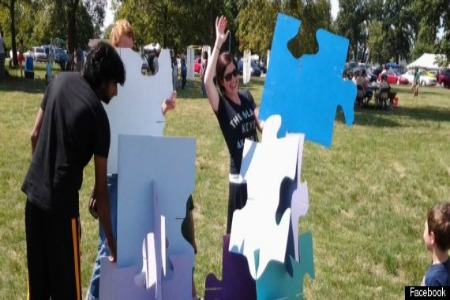 A theater focused on community outreach will be the first initiative to benefit from a new micro-funding program where individuals have the power to determine loan-worthy projects.
Experimental playhouse Puzzle Piece Theatre is crowdfunding a $5,000 loan on the Kiva Zip platform. Though it exists in other cities, Kiva Zip is a new component of Kiva Detroit, which helped Detroit-area businesses amass about $50,000 in loans after launching last year.
What's different about Kiva Zip, however, is that individuals nominate the entrepreneurs and organizations who will receive the loans. The program creates a space to communicate about the borrowers' progress and the loans are interest-free, said Elizabeth Garlow, director of strategic initiatives for Michigan Corps. Michigan Corps partners with Kiva to manage the program in Detroit and endorse the loans.
"We're looking to fund programs through Kiva Zip that demonstrate a specific loan purpose and community engagement," Garlow said. "[Puzzle Piece Theatre's] business model was very civic and community minded … and will foster cultural participation at all levels of the city."
Puzzle Piece Theatre's founder DB Schroeder said the $5,000 would go towards purchasing the rights to the first play they'll perform. It will also help pay for set design, space rental and stipends for actors and crew members. While Schroeder plans to launch their first main-stage performance in early 2013 in a rented space before finding a permanent home, the theater has already begun its other initiative of community programming, with an interactive storytelling performance piece at an art show on Belle Isle earlier in the summer.
Schroeder is a St. Louis native who left Chicago's theater scene for Detroit to be closer to family (his wife was born here). But he also saw space for a theater that could take part in the city's revitalization while including long-term residents.
"That's where the power of Detroit lies, in the passion of its people," Schroeder said.
"I chose to work in theater because I think it's a way of focusing on our universality and how we're all more alike than different," he added. "It's a very powerful way to build community, to draw talent and abilities out of people."
Schroeder imagines their main-stage productions will fulfill a social and cultural need for younger and newer Detroit residents, but just as important to the theater's mission is programming (for example, a storytelling series) to engage with local residents who might not be traditional theatergoers.
Schroeder has tentative plans to open the theater late next year in a planned development in the North End neighborhood.
"I haven't engaged the artistic community too much yet," he said. "It's smarter to get the businesspeople in place before engaging your artists."
A newly-designated 501c3 nonprofit, Puzzle Piece will depend on grants and donations to support its operation.
Puzzle Piece was nominated by the first Kiva Detroit loan recipient, Delphia Simmons, who has paid back the loan she received for Thrive Detroit, a newspaper homeless individuals help produce and sell. Simmons also made the first $25 loan to Puzzle Piece, making her one of the 800 individuals who have loaned to Detroit businesses through Kiva.
"It's like the initiative is coming full circle," Garlow said. "It's a great first business to open Kiva Zip with."
Schroeder said he believes they'll be able to pay back their loan after their the first production if they have just 50 percent capacity.
"But I have a strong feeing in my gut were going to be sold out," he said.
Make a loan to Puzzle Piece Theatre and find out more about nominating a business for a loan on the Kiva Zip website.