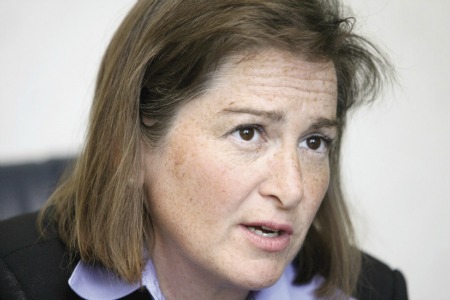 Barbara McQuade ­­– Andre Smith photos
"The perception of justice is sometimes just as important as justice in fact. People need to feel the system is fair and trust the system for us to be successful."
— Barbara McQuade
As Kwame Kilpatrick's federal corruption trial gets under way we saw last week the unprecedented diversity of the jury that will decide the fate of the former mayor and his co-defendants.
The 50 percent diversity of the jury — five African Americans and one Hispanic — is a ringing endorsement of the need to balance the scale of justice. It underscores the need to have a jury that reflects the community because in so doing it boosts confidence in the system of justice. Because fairness must not only be defined but must manifest in deeds and actions that demonstrate the need for justice for all.
That realization came on June 27, when the United States Attorney for the Eastern District of Michigan Barbara McQuade, Chief Federal Judge Gerald Rosen, Federal Judges Victoria Roberts and Denise Page Hood, Chief Federal Defender Miriam Siefer and Detroit Attorney Rev. Bertram Marks formed a rare and high-level judicial panel to tackle the racial and ethnic diversity of juries in the region.
The forum, held at the downtown campus of Wayne County Community College District, was one of the most important panels ever assembled in this region on the importance of jury selection and how to address issues within the justice system with senior members and top administrators of the judiciary in this area.
The concept of the forum was the result of a conversation between McQuade and myself about how to educate people about the challenges and strategies in the Eastern District to seat juries that represent the broad spectrum of the district.
I suggested a no-holds barred conversation on a topic that has been a thorny issue prior to McQuade taking over the helm as the Department of Justice's special envoy to this region. She readily agreed.
I wasn't surprised because after she was appointed as the United States Attorney by President Barack Obama, in her first major print interview McQuade talked about fairness in the system and how she wants to change public perception about the United States Attorney's Office and increase public confidence in the criminal justice system.
McQuade has always been open and candid on issues, maintaining that fairness would be part of the hallmark of her job as the U.S. Attorney. And this is how she answered one of my questions about critics who say Black officials often get stiffer penalties than their White counterparts – businessmen and others they engaged in business with.
"I think that has been a problem in the past — a problem in fact and a problem in perception. And so we want to make sure we are addressing people in a much more uniformed manner, that we are not giving a free pass to anyone. In any criminal enterprise it is common to make deals with lower level defendants in an effort to convict higher level defendants. But I think having a better awareness of that perception is really important because the perception of justice is sometimes just as important as justice in fact. People need to feel the system is fair, and trust the system for us to be successful," McQuade said in a June 2010 interview.
And so on the importance of jury service and jury diversity, we assembled the critical power panel. Chief Judge Rosen was instrumental and thought an open forum of this nature was a great idea and timely coming at the conclusion of a study on jury diversity.
Rosen had shared with me long before in a conversation in his chambers a study that the court commissioned to help provide an answer to the historical under-representation of racial and ethnic minorities as jurors in trials held in federal and state court. Judge Denise Page Hood and Judge Victoria Roberts were key to the panel because they led the committee that conducted the study to explore new ways to increase minority participation in the jury pool. A key finding in that study was the amount of mail returned undelivered when jury summons are sent out. Either people are deliberately not responding and ignoring summons, have changed their addresses, moved out of the area or don't see jury service as important to their daily lives, when in reality it is.
So part of the solution here to address minority under-representation is effective community awareness and communicating the importance of jury service and the need for racial and ethnic diversity in the jury pool in a non-threatening way that conveys an inclusive message.
And so at the forum I moderated at WCCCD, the administrators of justice in the Eastern District conveyed that inclusive message, showed concern for the non-response that comes from mail sent out. All the panel members agreed that that there can be no diversity in jury pools if people in the community are not a willing participants to ensuring that diversity is not only a compelling interest, but is realized.
At the forum no questions were off-limits on the subject of jury representation and the panel did justice to the topic and solicited feedback from the community on the implementation of the study.
Lyrically, Sam Cooke put it succinctly: "A change is gonna come" and "It's been a long time coming."
And we are starting somewhere to address a protracted issue where those who administer the criminal justice system in this region have shown seriousness, dedication and commitment to jury diversity.
This was evident by their willingness and drive to be a part of a landmark forum that provided a benchmark for what can be done where these critical issues were tabled in a constructive and wholistic way to find real solutions to the problem, and not just a mere press release.
Bankole Thompson is editor of the Michigan Chronicle and the author of a six-part book series on the Obama presidency. His book "Obama and Black Loyalty," published in 2010, follows his recent book, "Obama and Christian Loyalty" with a foreward by Bob Weiner, former White House spokesman. His forthcoming books in 2012 are "Obama and Jewish Loyalty" and "Obama and Business Loyalty." Thompson is a political news analyst at WDET-101.9FM (NPR affiliate) and a member of the weekly "Obama Watch" Sunday evening roundtable on WLIB-1190AM New York and simulcast in New Jersey and Connecticut.