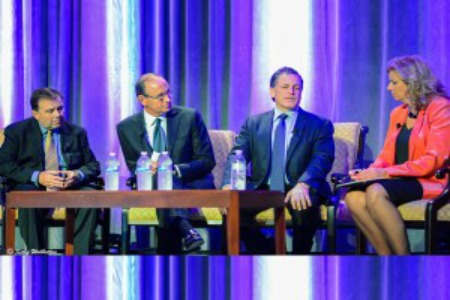 Photo Credit: Kelly Walkotten
Young talent key to future
GRAND RAPIDS (CBS 62) – Want to lure more young talent to the Motor City and places like Grand Rapids and Lansing? Bring them in as interns and you create an environment where they are more willing to consider staying. "I gotta tell ya, Detroit sells itself, people would maybe be shocked by that, but it really does," said Gilbert on a "Michigan Matters" special look at the role of cities.
Gov. Rick Snyder with CBS 62 Videographer Tim Sargent (on left) and Chief Videographer Paul Pytlowany (on right) who filmed the Michigan Matters special where Snyder talked of the importance of cities. (credit: CBS 62)
Also appearing on the show were: Gov. Rick Snyder, Windquest President Dick DeVos and Blue Cross Blue Shield of Michigan President and CEO Dan Loepp. Gilbert had an astounding 8,700 applications from 157 colleges for 600 full time internships at his companies this summer. And that is with no advertising.
Given that success, Gilbert is inviting other firms to join him in the effort and make downtown Detroit a mecca next summer brimming with 25,000 interns. That's just one way they talked about how to infuse cities. The four men also appeared at the West Michigan Policy Forum in Grand Rapids Sept 12-13 where 600 people attended. Panels held focused on cities, Right to Work, healthcare as an economic driver and more.
"Our cities are our core," said Snyder, who made his comments before leaving for China on his second trade mission to the Asian nation. "I tell them what a great place Michigan is to do business," Snyder said. "We're the best value in North America."
DeVos Continues Family Tradition
DeVos, eldest son of Amway co-founder Rich DeVos, talked how the community there has pulled together to help downtown Grand Rapids. It's a tradition that continues as he mentioned ArtPrize, started by Rick DeVos, his and Betsy's 30-year-old son who launched the art contest going on now in Grand Rapids. "It brings in creativity and lures more young people," said Dick DeVos.
He talked how city fathers and mothers have worked together to create Medical Mile and a plethora of other projects. "In a lot of towns, the way you break in and get established is determined by where you live and what clubs you belong to," said DeVos. "In this community, it's about how much you volunteer and are able to give,"
DeVos talked of redeveloping the downtown, which began with office buildings. "You could shoot a cannon down the main street at 5:30 and nobody would be hurt," then came convention venues and then more residential options. When asked to compare how easily things are done in the West Michigan versus East Side of the state, DeVos said: "People think things are done so much more easily in Grand Rapids.' "But the secret, someone has said, is we try to agree publicly and disagree privately. I'm not sure that's what happens in Southeast Michigan."
Doing It In The "D"
Loepp discussed the decision seven years ago to move Blue Cross employees in the Grand Rapids area into the vacant Steketee's store. It gave us the guts to do what we did in Detroit and Lansing," Loepp said. "Today, 98 percent of Blue Cross employees work in core cities, with 6,000 in downtown Detroit. As Blue Cross concentrated employees there, they found it also helped strengthen community partnerships as people took them more seriously as a Grand Rapids entity.
Inspired by success, Loepp led BCBSM's effort to take over a shuttered power plant in Lansing and turned it into the national headquarters for Accident Fund Holdings, Inc. He also moved over 280 BCBSM employees into the revamped building. And his boldest move — concentrating 6,000 BCBSM employees in downtown Detroit this spring where its headquarters has been for 73 years. "It wasn't about doing it for philanthropic reasons," Loepp said."It made good business sense."
For Gilbert, his dive into Detroit came about following the footsteps of fellow entrepreneur Peter Karmanos, CEO of Compuware, who had moved his company from Farmington Hills to downtown Detroit years earlier. Gilbert was outgrowing his suburban offices and knew he needed more space. He decided to lease space in Compuware's offices in Detroit and moved 1,700 employees there. That was two years ago. He has been buying up buildings downtown and a mini-Silicon Valley tech area developing along Woodward Avenue.
He has brought another 4,500 employees to the Motor City since with more scheduled to move to Detroit next year.
https://detroit.cbslocal.com/2012/09/25/gilbert-devos-loepp-talk-up-cities/