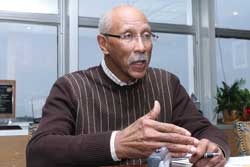 Black Bottom Entrepreneur: The Entrepreneur Mindset In today's climate, long-¬-term private and public employment opportunities are becoming scarce throughout urban communities, especially cities such as Detroit, Southfield, Oak Park, Pontiac, Flint, and Saginaw with majority African American populations. People are now finding themselves without the means to pay the rent, the mortgage, and the car note, let alone keep insurance. Residents have to drive far into suburban neighborhoods just to find quality food, commodities, goods, and cheap gas prices. To speak frankly, folks have got it real bad in certain parts of the state. However, because of their survival instincts, the relentless spirit to not fail in life, and the burgeoning desire to provide for our families, we are developing the entrepreneur mindset.
In the early 1920s, French settlers farmed in an area known for its dark, fertile soil and low elevation named "Black Bottom." Black Bottom eventually became one of the most entrepreneurially driven African American communities in Detroit pre-¬- integration. During the great migration of the 1900s, many African Americans from the south migrated north for gainful employment, but faced extreme racial segregation and discrimination; this forced them to settle in the Black Bottom district. The district reached its entrepreneurial peak in the 1920s, with more than 350 businesses, including 17 physicians, 22 lawyers, 22 barbershops, 13 dentists, 12 cartage agencies, 11 tailors, 10 restaurants, 10 real estate dealers, 8 grocers, 6 drug stores, 5 funeral homes, 4 employment agencies, and 1 candy maker. By 1951,140,000 blacks were renting or residing in Black Bottom before the community's eventual demolition, which was sanctioned by urban renewal projects and the eventual construction of Lafayette Park in 1956. History tells us that having an entrepreneurial mindset can create wealth.
Today's climate is ripe for entrepreneurship and for those who have an entrepreneurial mindset. Let me tell you why. There are more than 79,000 black-¬- owned businesses in the state of Michigan, 32,000 in the city of Detroit, and 15,000 in Oakland, Genesee, and Saginaw Counties, throughout the southeastern Michigan corridor. We purchase or consume an estimated 4.3 billion dollars as African Americans in commodities, goods, and services. If black people spent just 10% of this $4.3 billion with black businesses first, we could rebuild our communities and neighbors block by block without any help from anyone. Just do the math!
Entrepreneurs are successful because they identify what people cannot live without and make a business to meet that need. In an environment of uncertainty, entrepreneurial thinking has become second nature and entails an entrepreneurial mindset that captures the benefits of that uncertainty. Entrepreneurs are action-¬- oriented and utilize their network as their net worth. They are the people who turn contacts into contracts. They learn how and master ways to simplify complexity. These entrepreneurs can make a dollar out of 15 cents, or turn a simple idea into a multi-¬-million dollar enterprise doing business across the country and throughout the Pan-¬-African continent. We identify these savvy businessmen and women with their entrepreneurial mindset.
Entrepreneurs take advantage of unexpected occurrences, exploit incongruities, process needs of the community, analyze the industry and market changes, study demographics and the consumer climate, and adapt new knowledge to unlock the mind's innovation and creativity. Do you have the entrepreneurial mindset? Because if you do, there may be a community ready to embrace your business idea.