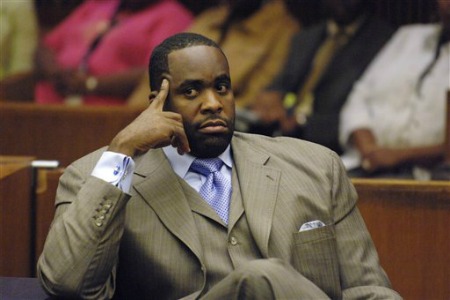 DETROIT, Mich. (WJBK) –
On Wednesday afternoon a 12-member jury and alternates was seated in the corruption trial of former Detroit Mayor Kwame Kilpatrick. FOX 2 Legal analyst Charlie Langton reports the jury includes 4 black females, 1 black male, 1 hispanic female, 2 white males and 4 white females.
The racial makeup of the alternates includes: 2 black females, 1 black male, 2 white males and 1 white female.
While a jury has been selected, earlier legal experts had said the possibility of a change of venue is not off the table.
Wednesday morning Langton said on day nine of the process of finding a jury, the prosecution used a challenge to dismiss two black women a move that's once again raising questions about the racial makeup of the panel. Three of the four defendants, Kilpatrick, his father Bernard Kilpatrick and Bobby Ferguson are black.
While race cannot be used as a reason to reject a potential juror, the judge says the women revealed some hostility toward prosecutors in earlier interviews and one had been a victim of a crime.
Langton adds, the question of a possible change of venue for the trial may also be addressed by the court as early as Thursday.