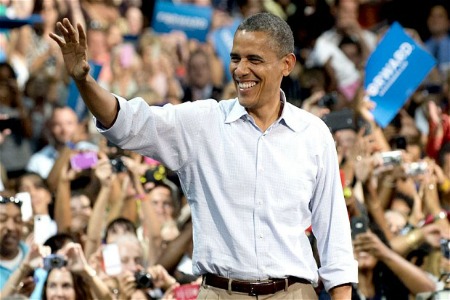 (CNN) –
A slew of polls released over the past 24 hours in crucial battleground states suggest the race for the White House remains tight, but indicate President Obama with a slight edge over Republican nominee Mitt Romney. It's a similar storyline in new national polling.
All of the surveys were conducted either entirely or almost entirely before Monday afternoon's release of secretly recorded remarks that Romney made at a private fund-raiser in May, where he described supporters of President Barack Obama as dependent on government. Fallout from the controversial clips has dominated coverage of the race for the White House over the past two days.
Five non-partisan live operator state polls have been released since Tuesday: Two in Virginia, and one in Wisconsin, Colorado and New Hampshire. Obama is on top of Romney in all of them, but the margins are within the sampling error in three of them.
In Virginia, a Quinnipiac University/CBS News/New York Times poll released Wednesday indicates the president at 50% and Romney at 46%. Obama's advantage is within the survey's sampling error. The president holds a 52%-44% lead over Romney in Virginia in a Washington Post poll out Tuesday. Other partisan polling in the commonwealth suggests a closer contest.
Then-Senator Obama won Virginia by two percentage points in the 2008 election, becoming the first Democrat to carry the commonwealth in a presidential contest since 1964. This cycle Obama has made eight swings through the state (not including quick visits to suburban Washington, DC in northern Virginia) since the unofficial start of the general election in early April, with Romney making eight tours through Virginia. Both campaigns, as well as the super PACs and other independent groups backing the candidates, have flooded Virginia airwaves with campaign commercials.
Quinnipiac University/CBS News/New York Times also released a survey Wednesday in Wisconsin, which Obama won by double digits four years ago. According to the poll, Obama has a 51%-45% advantage over Romney, up from a two-point margin in late August. Romney's running mate, Rep. Paul Ryan, is a seven-term congressman from Wisconsin.
The third Quinnipiac University/CBS News/New York Times poll out Wednesday indicates the battle for Colorado's nine electoral votes is all knotted up, with 48% of likely voters backing the president and 47% supporting Romney. Romney held a five point advantage in their last poll in the state, which was conducted last month before both parties' political conventions.
The new survey is in-line with an American Research Group poll released last week in Colorado that indicated Obama with a narrow two point margin over Romney. The president's edge in both surveys is within the sampling error. President George W. Bush carried Colorado in the 2000 and 2004 elections, with Obama turning the state blue four years ago.
The new Quinnipiac University/CBS News/New York Times surveys in all three states indicate that the president has cut into Romney's one-time lead on handling the economy. Pluralities in all three states also say they see Obama's policies as favoring the middle class, while a majority see Romney's proposals as benefiting the wealthy.
According to the surveys, the gender gap is alive and well, with a majority of men in all three states favoring Romney and a majority of women supporting Obama. Romney has the advantage among independent voters in Virginia and Wisconsin, but they are divided between the two candidates in Colorado.
New polls in New Hampshire indicate that the swing state remains a battleground. An American Research Group survey in the Granite State has Obama at 48% among the wider pool of registered voters, with Romney at 46%. According to a WMUR-TV/Granite State poll of likely voters released last week, the president held a five point advantage. The margins in polls were within the surveys sampling errors. Obama won New Hampshire by nine points four years ago, but voters in the state are very familiar with Romney. He was the governor of neighboring Massachusetts and he owns a vacation home in the state.
Nationally, the president also holds a small advantage. A CNN Poll of Polls, which averages the three non-partisan, live operator, surveys of likely voters conducted over the past week has the president at 48% and Romney at 45%.