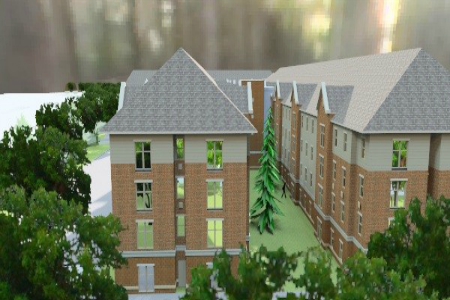 DEARBORN, Mich. –
Beginning in the fall 2013, students at University of Michigan-Dearborn will have a new option for housing – The Union at Dearborn.
The $30-million Urban Campus Communities (UCC) development located at 760 and 780 Town Center Drive, directly across Evergreen Road from the university campus, will include apartments for more than 500 students.
The 231,791 square-foot buildings that will be built on the property will be marketed to UM-Dearborn students and will feature space leased by the university for student life activities, including meeting rooms, student gathering spaces, group study rooms, offices for student organizations and a cabaret-style theater.
A public groundbreaking and community celebration will be held on site on Monday, Sept. 24, at 3 p.m.
"We are excited to be redeveloping this property in Dearborn, in collaboration with UM-Dearborn," said Larry Winokur, managing member, UCC. "The Union at Dearborn is a great example of how successful public-private collaborations can work to enhance a community and bring new residents into the city. We are thrilled to be working with great Dearborn community institutions, like UM-Dearborn and Ford Land, to make this happen."
"Our students have expressed an interest in housing for many years, so we are pleased that this development allows students the opportunity of adjacent housing to enhance their university experience," said Daniel Little, chancellor, UM-Dearborn. "With the reduction of state funding and our commitment to minimizing tuition increases, this public-private collaboration will allow the university to continue to invest in its academic mission, while transforming the campus experience for all students. The Union at Dearborn also will provide greater access for students wishing to pursue a Michigan degree in southeastern Michigan."
The Union at Dearborn also will bring a newly revived, 24/7 presence to the community, with economic growth expected for the surrounding businesses. "This is such an exciting development for the City of Dearborn," said Dearborn Mayor John B. O'Reilly, Jr. "We are thrilled that UM-Dearborn students soon will be able to call Dearborn home throughout the year and we look forward to welcoming them to our community."
Asset Campus Housing, a leader in the management of student housing facilities nationwide, will manage the property. Leasing is expected to begin in the coming weeks. Room styles will include fully furnished studios, two, three, and four-bedroom options. Final lease arrangements and rental rates will be available in the coming weeks. The facility will feature public laundry on each floor, as well as fitness and collaboration areas. Additional information is available at www.unionatdearborn.com.
UCC finalized the purchase of the property from Ford Land on Sept. 13, 2012. The development is privately owned and operated. It is not owned or operated by UM-Dearborn.