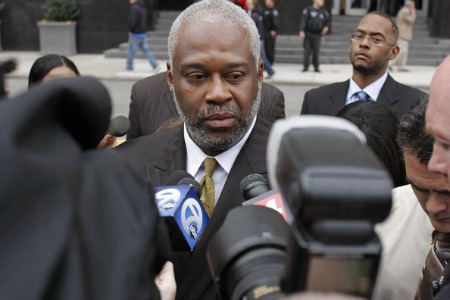 (DETROIT, WJBK) Anthony Chambers is nationally recognized as one of the premier criminal defense attorneys in Michigan.
His list of high-profile cases includes the Underwear Bomber and one of Detroit contractor Bobby Ferguson's business partners in a bid rigging trial.
But now he's having some legal troubles of his own. The Michigan Attorney Grievance Commission accuses him of leaving two clients high and dry. And an Oakland County judge issued a bench warrant authorizing his arrest after his wife accused him of owing more than $7,000 in child support.
Chambers told the Problem Solvers last week that he did not know about the bench warrant. He denies the other charges and says that, even though he earned the fees he was paid, he will send back some of the money.
That's not good enough for David Root, who hired him help his son with a drug charge.
Root lives in New York and hired Chambers after asking around for one of the best lawyers in town. According to documents Root submitted to the Attorney Grievance Commission, he hired Chambers Jan. 29th, 2011, wired a $10,000 retainer on Jan. 31st, had his last phone conversation with Chambers on Feb. 3rd. and got no calls, texts, or emails after Feb. 24th.
"How could he have left my son dangling out there with a warrant served for his arrest?," Root wrote in an email he submitted to the grievance commission.
Even Root's New York attorney, the guy who recommended Chambers, couldn't get in touch with him. He emailed Chambers, saying, "Anthony, You're making me look bad. Send me and update, please."
Root says he hired another Michigan lawyer for peanuts, and his son got probation.
Shannon Williams wasn't so lucky.
Williams, tried in Nebraska for dealing weed, says Chambers flew out to see him three times. He says Chambers never forgot to take home his pay. But he did forget one crucial detail: he was supposed to try getting Williams out of jail.
Williams also complained to the grievance commission. In his statement of fact he claimed Chambers pocketed $53,000.
In a letter replying to the complaint Chambers countered that Williams never paid him 53 grand, "nor did anyone on his behalf."
He says he dropped Williams as a client, writing "Mr. Williams' threatening behavior about what would be done and what he would do was unacceptable."
Williams is no angel
Even after getting new lawyers, he was convicted of dope dealing and money laundering.
He's currently serving a 20 to 40 year sentence in the federal pen.
But Grievance Commission officials believe chambers broke some rules himself.
For starters, in their Formal Complaint, they say he refused to cooperate in their investigation.
Their offices were only four floors above chambers' offices in the Buhl building, but they say Chambers refused to provide billing records or provide any other documents that would clear up the complaints by Williams and root.
They have essentially accused chambers of ripping off clients — one of gravest sins an attorney can commit.
If convicted, Chambers' legal career could be put on hold for months … Or more.
While Chambers wrote the commission letters responding to their initial inquiries, he has not responded to the discipline board and is in default.
That is a serious matter.
John Van Bolt, executive director of the discipline board, says he cannot comment on Chambers' case. He says attorneys in default are considered guilty of the charges they are accused of.
And that means that the hearing panel that will decide Chambers' fate must sentence him to some form of discipline.
That could range from a written reprimand to a suspension.
Van Bolt says suspension is a serious matter for attorneys, because during their suspension period they cannot practice law. Even a suspension for 30 days can be a difficult sentence.
Suspended lawyers can't take on new clients.
Even worse, he says, "You can't do anything that a lawyer can do. You can't appear in court, you can't sign pleadings, you can't hold yourself out as a lawyer. Technically, your name should not be on correspondence, at least not identified as attorney at law. If you have an office that says Office of John Jones, Attorney at Law, for those 30 days to be in compliance … you can put tape over (attorney at law). But you are not a lawyer for those 30 days."
It can be bad news for their clients, too, who will either need to put their business on hold. Or look for another lawyer.
There is a chance Chambers can avoid discipline if he can convince the hearing panel to give him another chance to respond to the charges against him.
The Problem Solvers will attend Chambers' hearing Tuesday and let you know what happens.
Anthony Chambers provided the following statement to Fox 2:
"You have recently made inquiry of my office regarding a previous fee dispute with two clients. Please be advised that the matter is currently pending with the Attorney Grievance Commission. I must note that, in my 27 years of practice I have never been disciplined, reprimanded or otherwise sanctioned by the Commission. In short, the Attorney Grievance Commission is the proper forum to address and adjust private disputes between attorneys and their clients.
In my career, which spans nearly three decades, I have stridently and zealously represented thousands of clients – ranging from the famous to the infamous. In this matter, I have elected to aggressively defend myself against these allegations in the appropriate forum. I fully anticipate that the parties to this matter will be afforded a fair hearing.
In short, I have great respect for our system of jurisprudence and I will continue (to) avail myself of the remedies available to me in this matter. Although private legal disputes between Attorneys and their clients are typically not news items, I fully understand that my profile and past successes have caused this matter to be a newsworthy item."