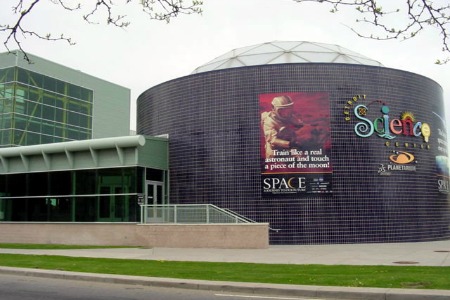 DETROIT (WWJ) – The Detroit Science Center is "one large step closer to opening its doors" after a $500,000 donation from ITC Holdings Corp.
Board members the newly renamed "Michigan Science Center" of have been hard at work securing dollars to reopen the cultural attraction since it closed last September amid a financial crisis.
"As the Detroit Science Center, it touched hundreds of thousands of children and parents each year. Now, as the Michigan Science Center, it will expand its influence statewide, encouraging an interest in math and the sciences, enlightening the minds of students throughout the state. It's important to remember that today's youth will be tomorrow's workforce of engineers and technical operators in the electric transmission industry," Gregory Ioanidis, president of ITC Michigan, said in a release.
Over the past several months the Michigan Science Center has achieved a number of significant milestones including commitments and donations of more that $2.5 million. Other donors include The General Motors Foundation, The Ford Foundation, Penske Corporation and the Manoogian Fund.
"These milestones are critical to our efforts to open the Michigan Science Center," Tom Stephens, chairman of the Michigan Science Center board, said in a release. "The Board of Directors has been focused on completing all of the steps of the Michigan Science Center Recovery Plan. One of the steps we are currently working on is developing an opening strategy for the facility."
Stephens said possible reopening dates for the science center stretch from as early as November into the first part of next year. He said visitors can go to www.michigansciencecenter.org to keep up with all the center's latest updates.