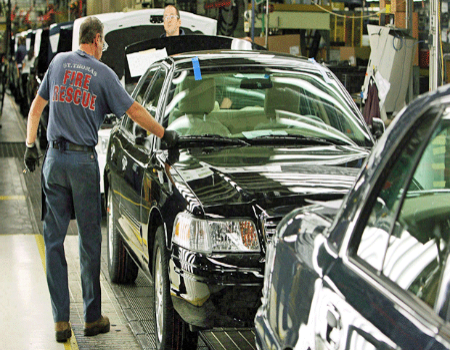 TORONTO (WWJ) – There will not be a strike nor a settlement in the short-term as the Canadian Auto Workers union is now taking negotiations on a day-to-day basis.
WWJ AutoBeat reporter Jeff Gilbert said the CAW union has to give the companies 24-hours notice before a walkout.
Earlier Monday the CAW announced a tentative agreement with Ford Motor and said if GM and Chrysler refused to accept that pattern then they would strike both of those companies.
Top labor executives at both GM and Chrysler asked the CAW for more time to digest specifics of the deal at Ford.
"This is a good faith gesture on behalf of the bargaining committees of GM and Chrysler it a good faith gesture from the national officers of the union," said CAW President Ken Lewenza."But good faith must result in good results."
Lewenza says that the deal with GM and Chrysler must be patterned like the tentative Ford agreement – or there will be a work stoppage.
Gilbert says it would not make sense to walk out if progress is being made. The current contract was scheduled to end at 11:59pm Monday.
About Post Author