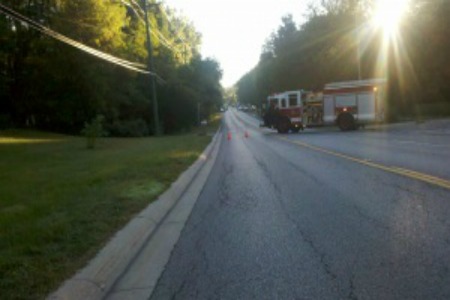 WEST BLOOMFIELD TWP. (WWJ) – There are heavy hearts in West Bloomfield Township where police officer Patrick O'Rourke, 39, has been shot and killed.
WWJ's Vickie Thomas reported the deadly incident began when family members called police after the suspect fired a shot inside a home on Forest Edge Lane, in the area of Pontiac Trail and Halsted.
Officers arrived and entered the home, Lt. Tim Diamond said, shots were fired from an upstairs bedroom and O'Rourke was hit. Diamond would not say how many times the officer was wounded.
"It's a tragic, tragic event," Diamond said. "We're not accustomed to this type of thing in West Bloomfield, so a lot of our officers are really walking around in shock right now."
O'Rourke, a 12-year veteran of the department and a married father of four, died at McLaren Hospital in Pontiac.
Following the officer's death, flags outside the West Bloomfield Township police station and at the entrance to the Civic Center have been lowered.
Police were still at the scene of the apparent stand-off Monday morning; stay with WWJ 950 for continuing coverage.
Police are withholding the name of the suspected killer, but numerous neighbors identified him as a military veteran in his 50s who worked as a venture capitalist. Neighbors said the man and his wife were divorcing, and according to court records, the couple's divorce was finalized August 30.