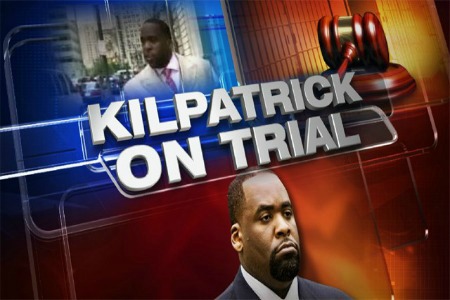 DETROIT – Day three dawns today in jury selection of the Kwame Kilpatrick federal corruption trial.
During the last two hearings of jury selection, 18 possible jurors were filtered into a pool that will total 66. That number will ultimately be whittled down to 12 jurors and 6 alternates.
Federal judge Nancy Edmunds set the tone by making it clear she will not tolerate any nonsense in her courtroom and highlighted the need to maintain juror privacy.
The former Detroit mayor has seemed confident and upbeat throughout most of the proceedings as has his friend and co-defendant, contractor Bobby Ferguson. Bernard Kilpatrick, Kwame's father, remained mostly serious and quiet while former Water and Sewerage Department head Victor Mercado sat almost completely stone-faced and impassive.
Prosecutors have enlisted the services of LA-based jury consultant Richard Gabriel who worked the O.J. Simpson trial and more recently helped the defense in the Casey Anthony case.
Defense counsel, meanwhile, is struggling to sit a racially diverse jury. Most of the 18 possible jurors are white.
The only three African-Americans to come before the court in jury selection last week, two females and a male, were all excused.
Jury selection continues at 10 a.m.
Opened statements are scheduled to start by Friday.
The defendants in the so-called "Kilpatrick Enterprise" are accused of a sweeping corruption scheme. The Kilpatricks are accused of shaking down contractors who wanted business or favors from Detroit city hall.
All have pleaded not guilty. Kilpatrick was mayor until fall 2008 when he resigned in an unrelated scandal.