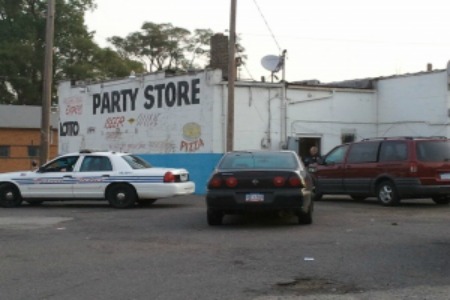 DETROIT (WWJ) – A Detroit business owner used lethal force after four would-be robbers broke into his west side party store on Friday.
Detroit Police Sgt. Eren Stephens said one person was killed and two others were hurt in the shooting that happened at Rightway Express party store on the corner of Joy and Ohio roads, near Liveronis, around 3:20 a.m.
Reporting live from the scene, WWJ's Mike Campbell said four would-be robbers arrived in a burgundy mini-van and apparently jimmied the back door to gain entry to the store, which was closed at the time. Once inside, however, the group was surprised by the store owner, who was reportedly sleeping inside and lying in wait to prevent just such an event.
Police say the store owner armed himself and allegedly fired shots striking three of the males. One victim, an unidentified male in his 20′s, died from his injuries. The other two wounded males, in their teens to 20′s, are listed in critical condition.
Stephens said a fourth male was hiding inside of the business and taken into police custody.
Residents from the mostly brick two-story homes nearby identified a man taken away in a squad car as the store owner.
Ron, who lives in the neighborhood, said it's not uncommon for the store's employees to actually sleep there because they've been robbed before. He said its a known area for trouble.
"Somebody got killed up here about eight months ago. Somebody got shot. It was nothing with the store, just somebody that was sitting in the car got killed," he said.
An investigation is ongoing.