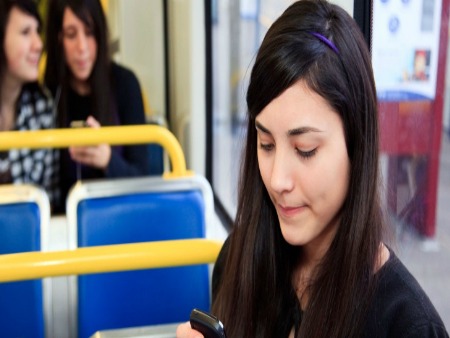 "When will my bus get here?" is a question that Detroit bus riders will now be able to ask their cell phones, thanks to a newly-launched text message service announced Tuesday.
The new "Text My Bus" program allows travelers, who often deal with long, unknown wait times, to get real-time arrival info about Detroit Department of Transportation (DDOT) bus arrivals by texting "50464."
All riders have to do is text their nearest street address or intersection to that number, and they will get a message back listing nearby bus routes. They can then respond to find out about the closest bus stop and the arrival time for the next bus.
Tuesday's launch of the "Text My Bus" service corresponds with the first day of class for Detroit Public Schools and is intended to make travel safer and more convenient for students and other riders.
"By using their cell phones, students can now determine the best time to arrive at their bus stops, so they will not have to spend a lot of time waiting alone or standing in the cold," Police Chief Ralph Godbee said in a release. "They also can give more reliable information to teachers, parents and employers about their expected arrival time to work, school or home."
The new service was developed through a collaboration between DDOT and the Detroit fellows for the national nonprofit Code for America, which aims to bring technological innovation to assist with cities' issues. Detroit Public Schools, the Federal Transit Administration, the White House's Strong Cities, Strong Communities (SC2) initiative and the Knight Foundation also partnered on the project. Similar text services already exist in other cities like New York and San Antonio, Texas.