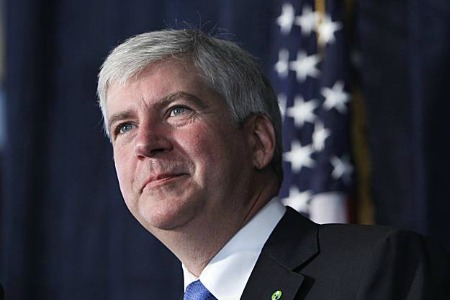 Last week in Detroit, I had the honor of taking part in something that was pretty great — the grand opening of a brand-new auto parts manufacturing plant that will bring more than 500 new jobs to the city. It was a true example of something I call relentless positive action, and it's a strategy and an attitude that is helping make Michigan the comeback state.
The opening of that plant was made possible not by one person alone but through cooperation and collaboration. It required the dedication and hard work of a true entrepreneur, the partnership of other companies committed to success in Michigan, and a supporting role from state and local governments which helped create the environment where the company could plant its roots and grow. And now it will be up to talented employees who will go to work every day and strive to make it a success.
That's just one story, but there are others — and it's not all about the auto industry. In Michigan's Upper Peninsula, I visited a paper mill that went bankrupt one year ago, but today is back to life, and people are coming together to put the company back on the right track. It's about our agricultural industry, too, health care and engineering. In fact, opportunities in Michigan abound — not to mention the fact that we have beautiful lakes and rivers, exciting cities, great food and diverse cultures. (You really should come visit Pure Michigan!)
In Michigan today, there are 80,000 open jobs waiting to be filled, yet talented workers are struggling to find employment. We're using technology to solve that problem by connecting potential employees with those opportunities and giving them tools to assess their skills, evaluate the return on investment for an education or training program, browse careers and connect with mentors. We're also making a special effort to make sure our veterans find employment when they return to civilian life.
In addition to making connections that help put the right talent with the right jobs, we've also taken action to put Michigan on the right fiscal course and enacted policies that tell job creators we're open for business. We created a corporate income tax that is simple, fair and efficient, put our state and public school pension systems on a sustainable path, and passed a balanced budget on time two years in a row, while also building our rainy-day fund to over $500 million — the highest level in more than 10 years. And we've done it while providing tax relief, increasing funding for education and health care, and giving more support to needy children.
To be sure, Michigan still has its challenges. But the fundamentals for a stronger economy are being put in place, and we have made strong progress even with the occasional setback. In the past year, total employment in Michigan has risen by 76,000, and the number of unemployed in the state fell by 72,000 — much better than the national pace.
There are a lot of great stories of success in Michigan, and each of them has the same theme: Michigan is open for business, and together we're reinventing our state with relentless positive action.
https://www.huffingtonpost.com/gov-rick-snyder/relentless-positive-action_b_1846907.html?utm_hp_ref=detroit&ir=Detroit
About Post Author