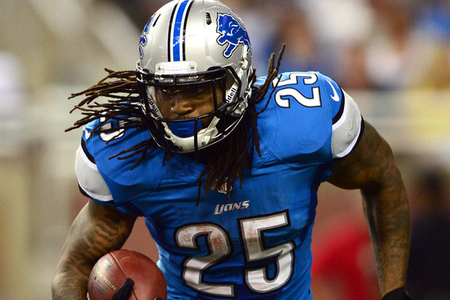 DETROIT — Mikel Leshoure made the most of his opportunity to play before the NFL makes him sit.
The Detroit Lions gave Leshoure a long look because the second-year running back hasn't been on the field much and he can't be for the first two weeks of the season.
Leshoure turned a short pass into a 33-yard reception to set up Detroit's first touchdown and ran for a 2-yard score to give the Lions the lead in a 38-32 victory over the Buffalo Bills on Thursday night in the fourth and final preseason game.
"I tried to be as balanced as possible," he said. "Inside the tackles, outside the tackles, catch the ball."
The NFL is making Leshoure sit out of Detroit's opener at home against St. Louis and its Week 2 game at San Francisco because he was cited for two marijuana-related offenses in the offseason.
Lions coach Jim Schwartz said Leshoure will be able to attend meetings and work out at the team's facility, but won't be able to practice or play during his suspension.
"I don't have to leave," Leshoure said. "So that's a good, positive thing."
Detroit's second-round draft pick last year didn't play as a rookie because he tore his left Achilles tendon early in training camp. He was slowed by an injured right hamstring earlier this month, but flashed some of potential against the Bills with agile moves after making a catch and power on a run.
On a team desperate for help at running back, with Jahvid Best out for at least the first six weeks because of concussion-related concerns, Leshoure will be counted on when he returns.
"When he got the ball in his hands, he looked good," said Matthew Stafford, whose night ended when he threw a 24-yard TD pass to Calvin Johnson on the duo's only drive. "It's going to be a process for him to do what he has to do to stay in game shape with two weeks off."
Detroit's offense, defense and special teams contributed toward the Lions (2-2) taking a 28-7 lead in the first quarter over the Bills (0-4) and yet Schwartz was still stewing about the game's first drive.
Buffalo quarterback Ryan Fitzpatrick completed all five of his attempts, including a 4-yard TD pass to Stevie Johnson, on his first and last possession.
"This game was about the guys who were getting their last chance to get noticed," Fitzpatrick said. "I've been in that position a lot of times, so I know how big this game can be for your career.
The Bills gave Tyler Thigpen an extended opportunity – in part because Brad Smith had a groin injury – to keep his job as their No. 2 QB and he didn't take advantage of it. Thigpen had an interception returned for a touchdown in his second straight game and ended the team's comeback chances with another interception in the final minute.
Thigpen was 18 of 30 for 186 yards with a TD and two interceptions that contributed toward a 61.3 passer rating.
"I thought Tyler played good," Bills coach Chan Gailey said. "Everything was on the line for him, and he made the decisions tough for us."
The Bills gave Tarvaris Jackson, whom they acquired after cutting Vince Young, a chance to play and he lofted a pass on fourth down deep in Detroit territory that was intercepted by Amari Spievey.
"As the game was going on, I was trying to let him know how everything fit into our game plan and how all the formations and sets worked," Fitzpatrick said. "He's in a tough situation."
https://www.huffingtonpost.com/2012/08/31/lions-beat-bills-score_n_1846103.html
About Post Author