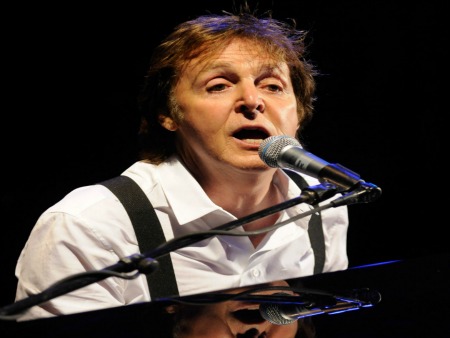 DETROIT — A damaged 1877 Steinway grand piano used by Motown artists during the record label's "Hitsville USA" heyday has been restored, thanks to a little help from Paul McCartney, and he's set to play it when it's unveiled next month.
A Motown Museum official said late Wednesday that the 9-foot, Victorian rosewood will make its debut at a charitable event at Steinway Hall in New York City on Sept. 18 before returning home to Detroit.
The ex-Beatle visited the Motown Museum's recording studio in Detroit last summer while he was in town for a concert. When he learned that the piano on display could no longer be played, McCartney told museum officials he wanted to help restore it.
By the fall, the historic instrument was on its way to Steinway & Sons in New York to be fixed up.
Work is now done on the instrument, and McCartney and Motown founder Berry Gordy will play the piano at a charity event dubbed "Project: Harmony," said Motown Museum Board of Trustees Chairwoman Robin Terry, Gordy's grand-niece. The event will benefit the Motown Museum.
The piano eventually will return to Detroit, where it will go back on display at the museum's famed Studio A. Terry said the piano made its way to Motown when the studio acquired Golden World Records in 1967, a facility that was redubbed Motown Studio B and used by musicians and songwriters to create music by Stevie Wonder, Marvin Gaye and other Motown greats.
The piano was restored to professional recording quality, Terry said, with all of its internal components – soundboard, keys, hammers, pins and strings – restored. The piano's case was left as is to preserve its authenticity, while the legs, which were not original, were replaced.
While the original strings and hammers were worn beyond repair, they were retained and will be returned to the museum for exhibit.
"We are grateful to be the recipient of such an incredible and generous gift thanks to Paul McCartney and Steinway & Sons," Terry said. "Upon the piano's return to the Motown Museum, our primary goal is to use it to its fullest potential for the city of Detroit, where the piano's legacy will live on and continue to inspire Motown music lovers."
https://www.huffingtonpost.com/2012/08/30/motown-piano-restoration-paul-mccartney_n_1842381.html?utm_hp_ref=best-of-detroit