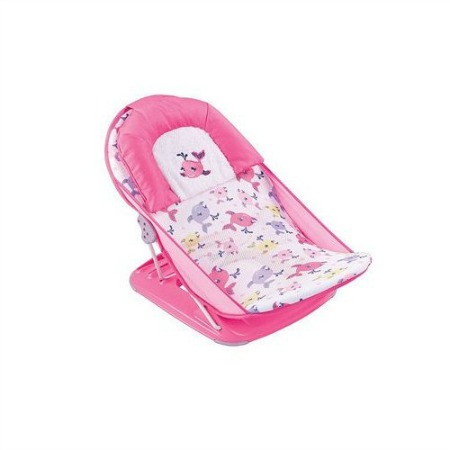 LANSING (WWJ) – About two million baby bathers are being recalled due to several reports of infants suffering head injuries after falling out of the bather.
The recall involves the Mother's Touch Deluxe Baby Bathers, manufactured by Rhode Island-based Summer Infant Inc., sold across the United States and Canada.
When the bather is lifted or carried with an infant in it, its folding wire frame can suddenly disengage from the side hinge, dropping the baby out of the bather — which poses a fall hazard and risk of serious head injury to infants.
The U.S. Consumer Product Safety Commission said they've received seven reports of incidents in the U.S., including five reports of infants suffering head injuries from falls from the bathers. CPSC said four children between 2-weeks-old and 2-months-old received skull fractures, including one that required intensive care for bleeding on the brain. The fifth child received a bump to the head requiring emergency room treatment.
The recall includes the following model numbers, which are located either on the side of the baby bather near the warning label or on the front near the wash instructions. Some units have multiple model numbers. Model numbers with an additional letter at the end of the number are also included in this recall.
08020, 08050, 08054, 08070, 08401, 08409, 08404, 08405, 08650, 08655, 08659, 08754, 08940, 08944, 18004, 18040, 18049, 18050, 18120, 18125, 18129, 18254, 18360, 18375, 18379, 18390, 18394, 18440, 18445, 18449, 18470, 18475, 18479, 38510, 38515, 38750, 38755
The bathers have adjustable side hinges with five rivets each and a white wire frame with a mesh fabric sling seat and two or three positions for the seats. Some also have a head support cushion. The fabric seat comes in various colors including white, blue, green, yellow and orange with fish, turtles, butterflies, frogs, flowers and duck patterns. Bathers manufactured since July 2007 include the warning "Never lift or carry the bather with infant in it."
The recalled product was sold at mass merchandise stores nationwide and on the internet from September 2004 through November 2011 for between $15 and $30.
Consumers should immediately stop using the bathers and contact Summer Infant for a free repair kit that includes a locking strap and instructions. For more information, call 800-426-8627 or visit www.summerinfant.com. Do not return to stores as the retailers will not have the repair kit.
https://detroit.cbslocal.com/2012/08/30/baby-bathers-recalled-due-to-skull-fractures/