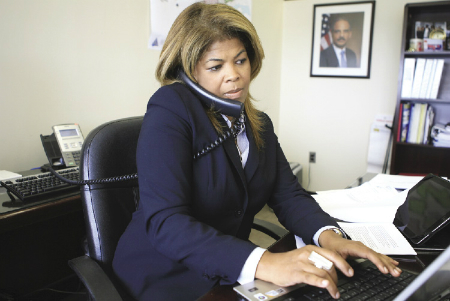 SPECIAL TO THE CHRONICLE
When Portia Roberson was young, being a public servant was instilled in her. The daughter of retired Judge Dalton Roberson Sr. and a former school teacher, Roberson was taught to leave things in a better state than she found it.
Now Roberson is the team leader for the Detroit Strong Cities, Strong Communities initiative under the direction of President Barack Obama's administration. The initiative, which was launched last year, operates in six cities and aims to foster more community collaboration.
"Each city has 15-25 team members and those members come from various agencies including HID, transportation, Small Business Administration, commerce, education and labor and we coordinate with various agencies and look for ways to implement the project," Roberson said. "We work on how to move things forward and we look for funding for those opportunities."
Strong Cities, Strong Communities operates in only six cities – Memphis, Tenn; Chester, Pa; Cleveland, Ohio; Fresno, Calif.; and New Orleans, La. In each city, federal resources have been designated to increase the city's productivity and streamlining the process to access the government. Additionally, best practices around the country are reviewed to determine what can be implemented to produce growth and vitality.
"Strong Cities, Strong Communities is a project that is here to help Detroit move forward," said Roberson. "The Obama administration certainly recognizes a lot of cities are having the same struggles and we had to figure out, how do we do more with less? The six cities were chosen for a reason, not because Detroit is the worst place in the world but because of the opportunities that are here."
Strong Cities, Strong Communities aims to break down the silos at the federal level and make it easier for the select states and cities to have access to the federal government.
Among the other projects connected to Strong Cities, Strong Communities are employment ventures and where growing career fields like information technology (IT) are identified and individuals are trained. Businesses are linked to the program as a way to discover new potential hires.
Most recently, a 14-week boot camp was held, where 90 students were trained to enter the IT field. Wayne County Community College District provided faculty members and additional resources, while Galaxy Solutions, Compuware and Quicken Loans offered the job training. After completion, 29 students received jobs.
While Roberson's appointment can end as early as November, she is working toward goals to accomplish.
"I would like to see projects that can be sustained and continued long after I am gone," said Roberson. "Like an IT boot camp to get people trained and get people working again would be great. Or if you can implement the program to address issues prior to youth committing violence," she said.
The Detroit native is a Cass Technical High School graduate. She holds a B.A. in English from the University of Michigan and a law degree from Wayne State University.
In 2009, President Obama appointed Roberson as director of Intergovernmental Affairs and department liaison for the Justice Department. However, last year, she was sent on detail to Detroit. In her current assignment, Roberson aims to establish a foundation that will continue to change the lives of Detroit residents. Prior to her initial appointment, Roberson worked as a private lawyer for nearly seven years, served as an assistant Wayne County prosecutor for more than two years, and worked as the associate general counsel for the Detroit Medical Center. In 2008, she became involved in the Obama campaign.
With Detroit being her heart, Roberson said she was very excited about the role and the opportunity that was set before her.
"I always knew I would come home and this has been an excellent opportunity for me," she said. I feel like we have success and we are really helping people on the ground who are working with the City of Detroit and the State of Michigan. We establish collaborations across our agency and make sure that we create the best possible circumstances for things to get done."