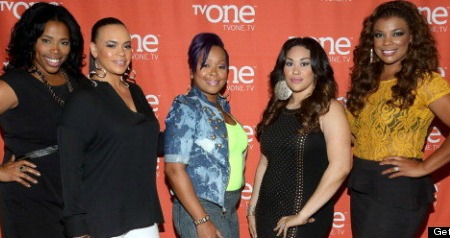 This week has been quite an eventful for R&B singer Faith Evans. Not only did the Grammy Award-winner reveal the release date of her October 2 album, "R&B Divas," she also made history with her new TV One reality show of the same name.
Today the network announced that the Monday's debut of the series, which also stars R&B singers Nicci Gilbert-Daniels, Monifah Carter, Syleena Johnson and Keke Wyatt, delivered the most watched original premiere in channel's history netting nearly 900,000 total viewers.
"We were confident in the quality of production and that the compelling storytelling deriving from the Divas' willingness to present their lives so openly and honestly would result in an entertaining series," TV One EVP of Programming and Production, Toni Judkins, said in a statement. "We're pleased that the ratings reflect the viewers' interest in and support of the show and TV One."
In addition to serving as the show's co-producers the New Jersey native is also helming executive producing duties for her forthcoming opus, which is a tribute to her late friend Whitney Houston."I'm extremely excited about executive producing this Faith Evans R&B Divas album and working beside some of the premiere female R&B vocalists of our generation," she said in the album's press release.
"I'm also proud to honor to my dear friend and music Icon, Ms. Whitney Houston and give back to the community in doing my part to help save performing arts in schools. Making this album has been an incredible experience, and every true fan of R&B music will be touched by these beautiful songs of love, hope and triumph!"
https://www.huffingtonpost.com/2012/08/22/faith-evans-most-watched-tv-one-series-rb-divas_n_1823076.html?utm_hp_ref=bv-pop-culture