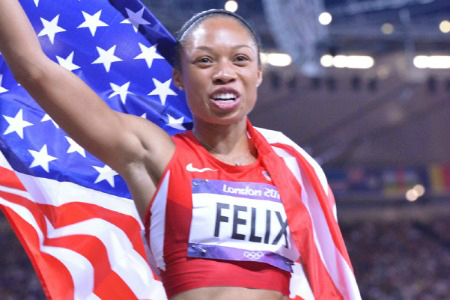 LONDON — Surly the city of London was much different than Beijing, Athens and Sydney. However, the 2012 Games were all about the athletes that train and train and compete to get to the level of world class.
Seems like everywhere I went at Olympic venues there were the Duke and Duchess (Harry and Kate) of Cambridge and Prince Harry. One time I went to the ExCel Exhibition Hall to interview US boxer Claressa Shields and Kate was sitting right in front of me. I asked security if I could take a picture to prove to my friends that what I was saying really happened. They said no go.
Besides the Royals, the real star of London 2012 was the athletes who brought the world community together.
The Jamaican phenomenon Usain Bolt made himself a legend of sports with his unprecedented second gold triple double, winning the 100, 200 and 4×100-meter relay.
The 25-year-old Bolt, in the face of stronger competitors than in Beijing, unleashed that intrinsic determination and drive that only a superior athlete can processes "I have won both events twice at the Olympics," Bolt said, "I have won world championship gold medals, I have broken world records many times. My coach is leaning towards the 400 meters, I am leaning away from the 400. It will be an intense conversation. Have you seen the training program for the 400?"
My favorite male athlete has to be the 800-meter runner from Kenya, David Rudisha, who set a world record in winning the gold medal. I have never seen anyone with a more beautiful stride and running gait.
My favorite female athlete is sprinter Allyson Felix. I have known her since my days in Los Angeles when she was a young up and coming sprinter.
In spite of Felix getting edged in the 2008 Games in Beijing and feeling sorry for herself, she went to work. Running everything from the 100 to 200 to 400, she has made herself the most versatile sprinter in recent American history.
In London she was the second woman ever to win gold in the 4×100 and 4×400 relays, after American Chandra Cheeseborough at the Los Angeles 1984 Olympic Games. In addition, Felix's three gold medals in London tie her for second among women in athletics for most gold medals at one Olympics. Only four others have accomplished the feat.
Great Britain's Mo Farah came into his home Games under pressure to deliver medals in the 10,000m or 5000m. He won both in thrilling style, seven days apart. If there had been a roof on the stadium it would have come off as 80,000 people roared for Farah.
Farah became one of a handful of men in Olympic history to complete the long-distance double. He said:,"It's an unbelievable feeling, the best feeling ever."
There were standout performances right across the 2012 Games from Felix Sanchez's golden night in the 400-meter hurdles to Uganda's Stephen Kiprotich stunning the Kenyan challenge to clinch Olympic Games gold in the men's Marathon on the Mall.
The London Games also saw Michael Phelps become the most decorated Olympian of all time with 22 medals. Phelps also holds the all-time record for Olympic gold medals (18, double that of the next highest). In the 2012 Summer Olympics in London, Phelps won four gold and two silver medals.
Serena and Venus Williams won their unprecedented third doubles gold medal. Sandra Richards-Ross finally earned the individual gold medal in the 400-meter run.
The Olympics are a celebration of humanity. People come together in a friendly spirit of competition that challenges not only their opponent, but themselves.
Leland Stein can be heard on WGPR Radio (107.5) every Sunday from 11 p.m. to midnight. He can be reached at lelstein3@aol.com.