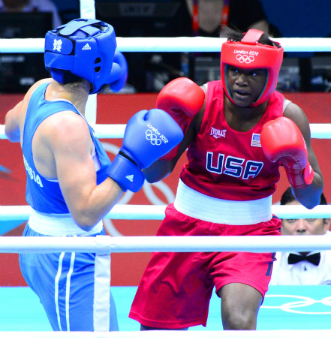 LONDON — The United States of America has always been renowned as a boxing power in the Olympic movement.
However, in recent years the good old U S of A has struggled mightily in a Olympic sport that has seen them produce Muhammad Ali, Joe Frazier, George Foreman, Sugar Ray Leonard and Oscar De La Hoya, just to name a few.
Now we have Flint, Michigan native Claressa Shields joining the aforementioned collective.
She made history in winning a gold medal in one of the three inaugural Olympic women's boxing divisions. She beat a woman nearly twice her age, 33-year-old Russian Nadezda Torlopova, in the 75-kilogram (165 pounds) division.
Shields, 17, won the first boxing gold medal for the United States since 2004. The US coaches said that Shields has become the face of US boxing and has become an inspiration for the women and men.
When told that she was going to be the face of boxing she said, "That's what's up!"
"I hope I showed everyone that women can do this. I put my combinations together and tried to put on a show. I model my style after Sugar Ray Robinson," shesaid.
Shields now has a dilemma. She needs money, but there is not a strong market for female boxers.
The hope here is that she can find a grant source that will allow her to train over the next four years and defend her crown.
She said she really needs to help her family and would have to see how it all works out.
Shields noted that she was very enthused that she had represented women, and the response the fans gave women's boxing was tremendous.