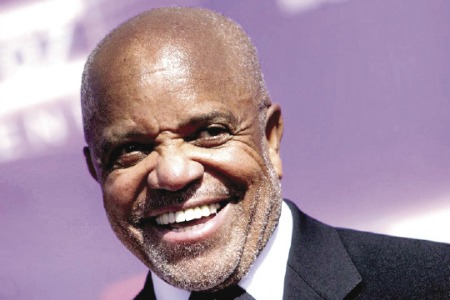 One never knows what people are going to say, perhaps even more so in the world of show business where getting publicity is a big part of the game.
I have been going over some of my notes and excerpts from one-on-one interviews and have come up with some interesting things. Sometimes they are funny.
Raynoma Gordy Singleton, the second of Berry Gordy's three wives, told me that Gordy has "the prettiest feet" she had ever seen on a man. (Now there's a compliment you don't hear every day!)
When as a preface to a question, a reporter said to Aretha Franklin, "You made a record with Mary J. Blige…," the indignant Queen of Soul said, "She made a record with me!"
During her last engagement with the Supremes, Diana Ross said on stage, "We'll always be together in our hearts." (Perhaps only there.)
Millie Jackson, who is always totally honest and often hilarious, said that because she had reached a certain age and her body didn't look the way it did back in the day, "I done got to the point where I turn out the lights whenever I have sex! Things ain't what they used to be!"
Fox 2 News anchor Huel Perkins is a huge fan of songwriter/singer Laura Nyro.
Superstar filmmaker Spike Lee asked me, "Why do so many Arabs live in the Detroit area?" (How was I supposed to answer that?)
One of the most successful television specials of all time is "Motown: Yesterday, Today, Forever." I overheard Mary Wells tell a friend at Hart Plaza a few months later that "Diana Ross was "high" that night.
Keith Washington, Grammy-nominated singer (biggest hit: "Kissing You") and current radio personality (WDMK-FM, 105.9, KISS-FM), asked yours truly after an interview, "How have you been able to last so long?" (He was equating that with his career as a singer.) I said, "God, and I love what I do."
Sylvia, singer/songwriter, said she wrote her huge hit "Pillow Talk" specifically for Al Green, but he turned it own because it was too overtly sexual. So she recorded it herself.
Sinbad never uses profanity in his act and that is because his father is a minister, That kind of language is out of the question.
We all know that Joan Rivers is outspoken to the extreme and that Paris Hilton is mostly famous for her name and money. Still, it was way over the top for Rivers to refer to her as "a no-talent skank ho."
When Jody Watley got a divorce from André Cymone, she said, "I kept the ring!"
Despite their great skill as songwriters, producers and singers, Valerie Simpson and Nick Ashford admitted that they were initially having some difficulty learning how to use a computer.
Tommy Davidson, formerly of "In Living Color," expressed gratitude (and amazement) that he had a sold-out house at the Palms Theatre when megastar Luther Vandross was performing that same night down the street at the Fox Theatre (also sold out).
Talented and versatile T'Keyah Crystal Keymah (you will remember her from "In Living Color" too) said she wanted to audition for the movie "Waiting to Exhale," but wasn't allowed to. She was hurt and insulted. The parts went to Angela Bassett, Loretta Devine, Whitney Houston and Lela Rochon.
I'll tell you more later.
N'DIGO, a Chicago based publication, embarked on a quest to determine "The 50 Greatest Soul Albums of All Time." There were 45 judges, half of them professionally affiliated.
The Top 50 included "What's Going On" (Marvin Gaye), "Thriller" (Michael Jackson), "Songs in the Key of Life" (Stevie Wonder), "That's the Way of the World" (Earth, Wind & Fire), "Superfly" (Curtis Mayfield), "Whitney Houston" (Whitney Houston), "I Never Loved a Man the Way I Love You" (Aretha Franklin), "Purple Rain" (Prince & the Revolution).
"Hot Buttered Soul" (Isaac Hayes), "Rapture" (Anita Baker), "I'm Still in Love With You" (Al Green), "Family Reunion" (the O'Jays), "One Nation Under a Groove" (Funkadelic), "Still Waters Run Deep" (the Four Tops), "The Heat Is On" (the Isley Brothers), "Stand!" (Sly & the Family Stone), "The Ice Man Cometh" (Jerry Butler) and "Who Is Jill Scott?" (Jill Scott).
Of course, any such list is subjective. It's a matter of opinion, professional or otherwise. But those are commendable choices.
The remake of "Sparkle," featuring Detroit's own Lonette McKee, has created renewed interest in the 1976 original. You can get a very reasonably priced DVD at Amazon.com. The cost is only $5.97 plus shipping and handling which brings it to $8.95.
LARENZ TATE is a talented young actor we haven't been seeing much of lately. He had a regular presence in the '90s in films such as "Love Jones," "Why Do Fools fall in Love?" and "The Inkwell," plus many television shows, among them "21 Jump Street," "Family Matters" and "The Fresh Prince of Bel-Air." Tate's last movie was "Ray," a 2004 release in which he portrayed Quincy Jones.
An album of never-before released material on Aaliyah is being readied, with Drake as producer. I think projects such as this are wrong because the artist is no longer living, and who's to say if they would have wanted the material released. It's disrespectful.
What people spend their money on is, of course, their own business, and when people are rich, what is a lot to the rest of us is not to them. But even so, it seems ridiculous for Beyoncé and Jay-Z to spend $400,000 for a month's stay at a summer resort.
MEMORIES: "Got To Be Real" (Cheryl Lynn), "In the Night-Time" (Michael Henderson), "Love Power" (Willie Hutch), "Sing a Simple Song" (Sly & the Family Stone), "The Cisco Kid" (War), "All Around the World" (Lisa Stansfield), "I Just Love the Man" (the Jones Girls), "Papillon (aka Hot Butterfly)" (Chaka Khan), "Reaching for the Sky" (Peabo Bryson), "Honey Chile" (Martha Reeves & the Vandellas).
BLESSINGS to Janice Marcum, William Ross, Deborah McIntosh, John Mason, Brenda Franklin, Keena Green Clinkscales, David Banks, Michael Price and Barrett Strong.
WORDS OF THE WEEK, from Bob Marley: "One good thing about music is when it hits you feel no pain."
Let the music play!
(Steve Holsey can be reached at Svh517@aol.com and PO Box 02843, Detroit, MI 48202.)