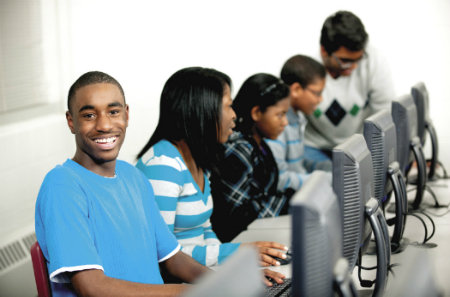 The Education Achievement Authority of Michigan said last week's vote taken by the Detroit Board of Education will not interrupt the opening of its schools in September, according to Chancellor John Covington.
"We have received a number of calls from parents this morning voicing concern and uncertainty about the start of school Sept. 4 as a result of a vote taken last night by the Detroit Board of Education. It is unfortunate that the board took that vote because clearly it has no legal authority to interfere in any way with the opening of the EAA schools," Covington said. "The Education Achievement Authority of Michigan is on schedule to open our schools Tuesday, Sept. 4. The principals are working hard in each of the 15 schools, staff has been hired and is undergoing training in the new learning platform that will form the foundation of these new schools and all other details related to the timely opening are being put in place."
Covington added, "It was clear from the overwhelming turnout we had at the 15 open houses held at each EAA school last Saturday that parents and students are excited by our new program that will transform and modernize traditional public education and eager to start the new school year. We are committed to providing each child the education to which they are entitled and will not allow outside distractions to prevent us from doing that."
EAA on new Student Centered Learning Model
The Education Achievement Authority of Michigan (EAA) will introduce a new way of learning for Detroit students during the 2012-2013 school year. It will implement a Student Centered Learning Model and Blended learning model that will replace the traditional way of teaching and learning.
Gone are the days of the teacher standing in front of the classroom and delivering the same lesson to students who learn differently and progress at different rates. The EAA will utilize teaching and learning tools to help each student progress at their own rate.
For instance, if a student gets a 50 percent at the end of a semester, it won't be considered failure with the EAA. The student will keep working from that point until they have mastered the material and can go to the next level.
"The learning model will allow each student to have their own academic plan. Instead of the teacher standing in front of the classroom teaching to up to 14 different levels, each student will learn where they are academically," said Mary Esselman, chief officer, Accountability, Equity and Innovation of the EAA. "We're going to help students to develop skills to set goals, to own their learning experience and develop a good work ethic. It is much more than mastery of academic content; we want students to understand what they are after.
"Success, mastery and eventually creating a student body that is college/university and workforce ready, students will no longer experience a constant failing mode."
The EAA classroom will be set up to accommodate each student's unique learning style. Students will work in a variety of ways. They will work with the teacher, work in groups, utilize computer technology, use audio visual equipment and use hands-on projects to apply the lessons they've learned before progressing to the next level.
Teachers will also be able to assess each student and track their progress in real time while students are actually working on their lesson. Teachers will be able to help students who may need a little extra work, or identify students who may need more challenging work.
Parents will have the ability to monitor the progress of their child at any time.
EAA schools offer mathematics, language arts, social studies, history, writing, reading and many other curriculum choices that vary by school, including extracurricular activities.
The EAA is preparing students to be college and workforce ready. Parents can enroll their students into the EAA by calling (313) 456-2278 or visiting www.enrolleaa.org.