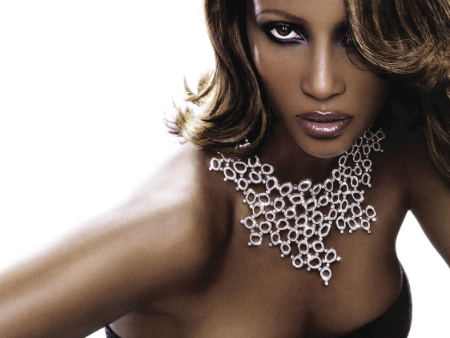 Iman Mohamed Abdulmajid.
Now there's a name for you. And it belongs to one of the most famous and most strikingly beautiful models in the history of the profession. She is Iman. A legend. An icon. One of the first women to be
labeled a supermodel.
There is a abundance of successful models out there, but the bona fide supermodels can be counted on two hands. One difference is that the models are hired by agencies. Supermodels, who have become household names, are requested by designers — and paid huge sums of money for their services.
In addition to having reached the pinnacle of success in the modeling field, Iman, who is married to rock legend David Bowie — himself a fashion figure and chameleon — is a highly successful entrepreneur and an accomplished actress as well.
The name "Iman," by the way, is Arabic for "faith."
IMAN WAS born in Mogadishu, Somalia, located in the Horn of Africa, a peninsula in East Africa that juts into the Arabian Sea. The Horn consists of Somalia, Djibouti, Ethiopia and Eritrea. Interestingly, Iman attended high school in Egypt and later studied political science at the University of Nairobi (in Kenya).
It was at the university that her look captivated Peter Beard, an American photographer. He helped convince her of the vast possibilities in modeling, and she subsequently relocated to the United States. At a whirlwind pace she ascended the modeling ladder, landing on the cover of Vogue magazine in 1976, only a year after moving to the states. After that she was on the cover of an array of other high prestige fashion magazines.
The foremost designers were intrigued by Iman, and hired her regularly, including Yves Saint-Laurent (him especially), Gianni Versace, Donna Karan, Calvin Klein and Halston. Saint-Laurent once described Iman as "my dream woman."
In 1994, after nearly 20 years of modeling success on the highest level, Iman decided to start a cosmetics company, aimed specifically at ethnic women who routinely had difficulty finding make-up to match their skin tones. Because of her extensive modeling career, she was very knowledgeable about make-up, thus being qualified to be involved directly with the development of the product in addition to being the company's commercial face.
IMAN COSMETICS became a huge success and still is, doing approximately $25 million every year.
After being immensely successful modeling in the 1970s and 1980s, Iman had become a top-flight business executive.
Noticing her success and realizing how marketable she was, the CEO of the Home Shopping Network urged her to start her own global clothing line.
No surprise that Iman also became a familiar face on television and in films, appearing on such shows as "Miami Vice" and "The Cosby Show," in addition to hosting "Project Runway" for two years. She appeared in the movies "Out of Africa" with Meryl Streep and Robert Redford, "No Way Out" with Kevin Costner and the British film "The Human Factor."
Iman is also noted for the humanitarian work she puts heart and soul into, for the benefit of the underprivileged around the world, especially children, including, of course, those in East Africa.
Iman married David Bowie in 1992. She had previously been married to NBA star (and Detroit­er) Spencer Haywood. She and Haywood have a daughter, Zulekha. Although she is no longer an active model — but still looks sensational at age 57 — Iman still makes personal appearances and occasionally does photo shoots. — SVH