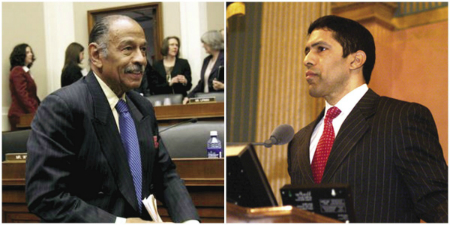 The Michigan Chronicle endorses Congressman John Conyers in the primary election for the 13th District and Congressman Hansen Clarke in the primary election for the 14th District.
Congressman Conyers is a civil rights icon, and we agree with President Barack Obama that he remains an important national leader who should have another term in office. At age 83, Congressman Conyers is still at times the first national figure to speak out, and provide a progressive perspective, on the important national and international issues of the day. And we like the fact that, unlike so many politicians these days, he is "unbought" — he takes his positions based on personal convictions and principle, not because of any fundraisers' dictates. We need much more of that on Capitol Hill.
Among the competition in the 13th District, State Representative Shanelle Jackson is an impressive public official, worthy of consideration. But, in our judgment, Congressman Conyers' iconic status gives him the edge at this point in time.
Congressman Clarke is a high energy, "out-of-the-box" thinker who grew up on the poor east side of Detroit. He has not forgotten his humble origins and has dedicated his public life to improving the lives of the working class and poor in Detroit. We would like to see him have an opportunity to continue his work on Capitol Hill.
Congressman Gary Peters is also running in the 14th District. He is a well-respected public official and in his two terms has been a good legislator for the Oakland County communities he represents. Since redistricting, he has worked energetically to establish relationships in the city and has picked up some impressive endorsements. But, Congressman Peters has not yet been a leader on urban issues and, in our judgment, urban issues have not been a centerpiece of his campaign. Forced to make a choice between Congressman Clarke and Peters, we would send Congressman Clarke to Capitol Hill as the representative of the newly configured 14th District.
For several reasons, the upcoming congressional races for the 13th and 14th Districts are of historic importance. Thanks to the state legislature's redistricting mischief, the city of Detroit could go from having two Congressmen — Conyers and Clarke — to no Detroit­er representing us in Congress. Detroit has had two representatives in Congress for generations. Many, including the Michigan Chronicle, are understandably concerned about the prospect of losing both positions.
Also, thanks to redistricting, African-American representation in the Michigan congressional delegation is threatened.
Of course, we do not believe voters should base their decisions on residency alone or on skin color at all. But the thought, in this day and age, of an African-American population as large and important as Detroit's sending no member of that community to Congress, is an ugly problem that should make everyone in the state of Michigan uncomfortable.