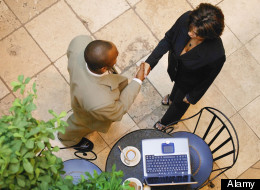 Silicon Valley has become a fertile stomping ground for tech-savvy CEOs and their companies, yet minorities struggle to breach the exclusive community of entrepreneurs and magnanimous venture capitalists.
Despite rumors that brains and luck are the best ways to break in, challenges persist. But accelerator programs like NewME are striving for infiltration to the Valley by honing entrepreneurial talent amongst top start-ups and tech giants such as Google and Facebook.
"Everybody that's in the program has drive to be successful,"
said Angela Benton, founder and CEO of NewMe Accelerator, as reported on NPR.
In Benton's program, six start-up hopefuls undergo a rigorous three-week boot camp of mentoring and training, gaining a level of access not often received by many Black or female entrepreneurs.
And while programs like Benton's aim to break the "silicon" ceiling for aspiring Black CEOs, other parts of the country have emerged as prime locations for aspiring Black business owners as well.
Last month, Black Enterprise magazine released its annual BE Top 100 List, a ranking of the top grossing Black-owned businesses across the U.S.
The 100 CEOs ranked on the list hail from across the nation, east to west. Still, several states, including New York, Texas and Ohio, appear on this year's list multiple times, further cementing the belief that some places are simply more favorable to Black businesses than others.
In addition to reoccurring states, the most prevalent industries featured include management and administrative services, construction, IT accounts, retail trade and professional and technical services.
But Black Enterprise's list isn't the only indicator of African-Americans' increasing entrepreneurial success.
According to most recent data from the Census Bureau's 2007 Survey of Black Business owners, the number of Black-owned businesses in the U.S. increased by 60.5 percent between 2002 and 2007, reaching 1.9 million, . In comparison, the national rate of businesses peaked at a mere 18 percent during that same period.
Within that surge, women of color seem to have excelled in particular, with Black women launching three to five times the rate of all businesses, the Center for Women's Business Research reports.
On the other side of the coin, however, comes bleak statistics pointing to a noticeable lack of support from Black consumers in keeping those Black-owned businesses afloat. Despite significant growth in employment and earnings, Black-owned businesses generated just 0.5 percent of all receipts in 2007, the Census report says.
Having spent a year shopping only at Black-owned businesses, Maggie Anderson authored the book "Our Black Year" to highlight the difficulties she and her family encountered along the way.
"Once I realized how important it was to find them, I was able to support them," Anderson told The Huffington Post.
"Black business owners have to do what any other business owner has to do in order to succeed," she added. "The difference is that it is harder for a Black business owner, even when they do exactly what any other entrepreneur does."
Anderson pointed to a lack of access to capital, mentors and networks as barriers, and adds that cultural barriers often prevent sustainability once those businesses have been created.
"A lot of that restricted access has to do with covert, sometimes arbitrary and latent racism that still exists in our banks, other funding sources, and the overall close-knit nature of the industries they may try to penetrate," Anderson said.
Yet still, there are at least 100 that are finding a way. Here, we've scanned Black Enterprise's list to determine which cities black business owners have found the most success.
http://www.huffingtonpost.com/2012/07/23/best-states-black-owners_n_1696402.html?utm_hp_ref=detroit&;ir=Detroit