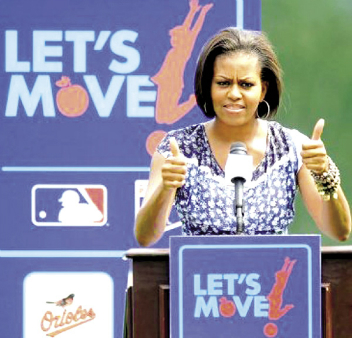 Michelle LaVaughn Robinson Obama, the wife of the 44th president of the United States, has a mission: health and fitness.
Joining Hillary Clinton as the most educationally accomplished first ladies in U.S. history, Michelle Obama is a Harvard lawyer and, like Clinton, was a Georgetown lawyer.
Breaking the mold for first ladies, Mrs. Obama has taken on one of America's biggest concerns — health.
She is heading up the "Let's Move!" campaign, her goal being to help end childhood obesity in the United States.
This campaign was started by Mrs. Obama who is committed to "solving the challenge of childhood obesity within a generation so that children born today will reach adulthood at a healthy weight."
Mrs. Obama's campaign was announced in February of 2010. She said the campaign would encourage having healthier food in schools (thank God for that!), better food labeling and more physical activity for children.
"Let's Move!" seeks to combat the epidemic of childhood obesity and encourage a healthy lifestyle through "a comprehensive, collaborative, and community-oriented initiative that addresses all of the various factors that lead to childhood obesity."
Her goal is to engage every sector of society that impacts the health of children. One key is to provide schools, families and communities with the simple tools they need to help kids be more active, eat better and get healthy.
A song has been released to promote the campaign called Let's Move! Flash Workout." The song is by Beyoncé Knowles and Swizz Beatz. It is called "Move Your Body." The video was shot in a school cafeteria where Beyoncé dances with children.
Body Mass Index (or BMI) is a measurement of weight in relation to height that can help to determine weight status. In children, the Centers for Disease Control and Prevention (or CDC) determine that a child is overweight if he/she is above the 85th percentile and lower than the 95th percentile and obese if at or above the 95th percentile.
The CDC indicates that there are several factors that can contribute to childhood obesity: genetic factors, behavioral factors, including energy intake, physical activity and sedentary behavior, and environmental factors. Overweight and obesity pose many potential risks and consequences: psychological issues and cardiovascular disease, along with risks including asthma, hepatic steatosis, sleep apnea and type 2 diabetes.
Unfortunately, as Michelle Obama has noted, nearly one in five children in the U.S. between ages of 6 and 19 are obese, and one in three are overweight. The childhood obesity rate tripled from 1980 to 1999, creating an epidemic and a generation where children may have shorter life spans than their parents.
The "Let's Move!" initiative focuses on the reform of behavioral factors and environmental factors by focusing on active lifestyles and healthy eating through community involvement, including but not limited to schools, parents and healthcare providers.
To promote healthy eating, "Let's Move!" focuses on nutrition information, the next generation food pyramid, empowering consumers and having pediatricians as partners.
The United States Department of Agriculture (USDA) has put dietary guidelines together to form a food pyramid that can be personalized, which can be found at MyPyramid.gov.
Mrs. Obama's goal is to give more power to consumers through the U.S. Food and Drug Administration (or FDA)'s "New Front-of-Package Labeling Initiative" and "New Menu and Vending Machines Labeling Requirements."
The first lady and "Let's Move!" advocate for healthy eating habits to be promoted by families, schools and communities. "Let's Move!" also urges mothers to eat healthier when pregnant and offers links to a special "MyPyramid Plan for Moms" so they can create a personalized and healthy diet.
I saw Michelle Obama on a YouTube video getting down with students at an inner city school. She walks the walk and talks the talk.
Leland Stein can be reached at lelstein3@aol.com or at Twitter @lelandsteinIII