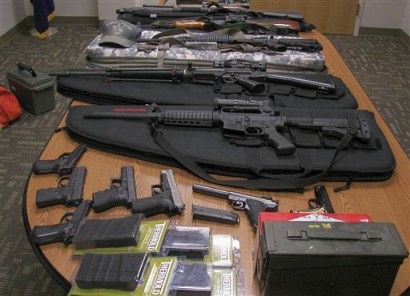 Last week we were awakened to the tragedy in Aurora, Colorado where 12 people were shot to death in a movie theater and many more were wounded, and others in critical condition by a lone gunman underscore why we need leadership on gun control.
Unfortunately, neither of the presidential candidates, incumbent, President Obama and his Republican challenger, Mitt Romney, have offered or signaled any strong interest in making gun control a part of their campaign platform in 2012 despite the glaring reality of the gun menace. In the wake of the killings in Colorado, neither candidate has rejuvenated the conversation for stricter gun control.
In the past couple of months in Detroit we've seen carnage take place, where in some cases young children are the victims of violent crime situations created by the proliferation of guns in our community, including assault weapons.
Unfortunately none of our local elected officials in Michigan and in Detroit have gone on record or initiated a meaningful conversation around gun control in and around Detroit.
Aside from some law enforcement efforts in metro Detroit in partnership with churches to get people to turn in guns, there has been no real significant move to make gun control an important part of making our lives safer.
Why would someone who legally owns a gun be in need of an assault or automatic weapon?
Making our lives safe shouldn't be a Democratic or Republican issue. We never knew the party affiliation of the victims of the Aurora shootings or the victims of violent crime in Detroit. And it is dangerous when we begin to politicize public safety to the level that one party feels that it has to be the sacred mouthpiece of the National Rifle Association (NRA).
This is where we need leadership that is principled and not afraid of the powerful NRA lobby.
In 1994, former president Bill Clinton signed into law the decade-long ban on assault weapons. Clinton rallied supporters — including police officers and other law enforcement, the strongest backers of the ban — as well as families of victims of assault weapons and succeeded in getting Congress to pass the ban. Like the smart politician he is, Clinton put a face to the dangers of assault weapons like the one used in the Colorado killings.
In 2004, during the George W. Bush presidency, the ban on assault weapons lapsed and there has been no interest shown by members of Congress to renew the ban.
Why?
Because they are afraid of the NRA?
Who sent them to Congress?
Is it the NRA or their district members?
It's time to demand that our political leadership show some backbone and fight to protect the lives of people by supporting not only the renewal of the ban on assault weapons, but ensuring that in our communities gun control is at the forefront of the survival question.
We cannot avoid this issue and we should not wait for another Aurora or Columbine to remind us yet again that our political leadership is failing woefully on this issue.
We owe it to the legacy of the victims of Aurora, the victims of violent crime in Detroit, where dangerous weapons have been used, to push for gun control in our search for "liberty and the pursuit of happiness."
Nothing can compensate for the lives that have been lost in Colorado, Detroit, the gang violence in Chicago and the six-year-old killed in the Aurora movie theater.
But those who claim to be our leaders have a responsibility to care and work for those who put them in office. And it should not matter what is politically expedient when it comes to public safety.
What should matter is doing the right thing — and that is fighting to ensure that we can curtail violent crime from Aurora to Detroit. We can start by offering leadership on gun control.
Certainly, the Second Amendment, the right to bear arms, matters, but explain that in defense of lack of gun control to a family that has lost members in a deadly shooting where assault weapons were used.
Explain that to the parents of the six-year-old killed in Aurora.
Explain that to the families of young children who have been killed in gang violence.
It is time for our political leadership to step up.
Bankole Thompson is editor of the Michigan Chronicle and the author of a six-part book series on the Obama presidency. His book "Obama and Black Loyalty," published in 2010, follows his recent book, "Obama and Christian Loyalty" with a foreward by Bob Weiner, former White House spokesman. His forthcoming books in 2012 are "Obama and Jewish Loyalty" and "Obama and Business Loyalty." Thompson is a political news analyst at WDET-101.9FM (NPR affiliate) and a member of the weekly "Obama Watch" Sunday evening roundtable on WLIB-1190AM New York and simulcast in New Jersey and Connecticut.