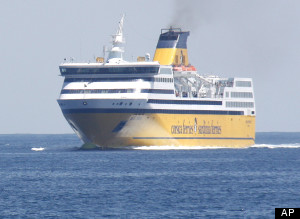 The Detroit Port Authority wants a ferry up and running to and from Windsor by spring of 2013.
The authority told CBC News it already has a new boat terminal waiting to be used by the Renaissance Center, located across the Detroit River from Windsor's downtown core.
Deputy director Steven Olinek said there is even funding lined up from Washington to buy a ferry.
"I think the fact that we've got this endorsement in the form of committed monies is something that others have not had," he said. "We still face the challenges with regard to the clearance of passengers and we're trying to find a creative solution."
Gord Orr with Tourism Windsor Essex Pelee Island said the idea holds great promise.
"The potential of the bicycle tourism part of it is very exciting as we start to look at more trails and routes and see how we can increase more of that healthy lifestyle," Orr said.
As CBC News was first to report, Windsor West MP Brian Masse has lobbying on both sides of the border to get a ferry approved.
http://www.cbc.ca/news/canada/windsor/story/2012/07/19/wdr-detroit-port-authority-ferry-service.html